Follow us on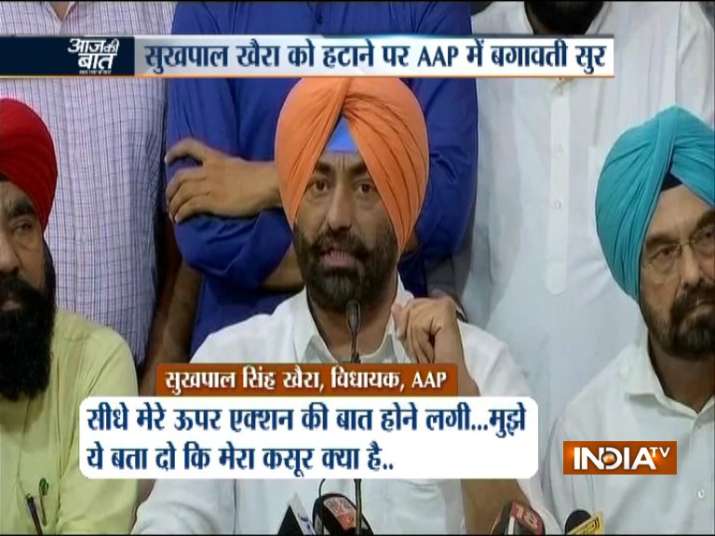 The central leadership of the Aam Aadmi Party (AAP) on Thursday summarily removed its MLA Sukhpal Singh Khaira from the post of Leader of Opposition in the Punjab Assembly and appointed Dirba MLA, Harpal Singh Cheema, in his place. Reacting to the move, Khaira said that he had paid the price for speaking the truth.
While there had been simmering discontent between Khaira and the Delhi leadership, including party's National Convener Arvind Kejriwal and state in-charge Manish Sisodia, over Kejriwal's apology to Bikram Majithia and Khaira's remarks on "Referendum 2020", but matters came to a head with open discord between the Punjab co-president, Dr Balbir Singh, and Khaira.
Khaira's removal comes exactly a year after he had been unanimously selected to be Leader of Opposition by fellow MLAs at a meeting in New Delhi on July 21, 2017. At that time, he had replaced H S Phoolka who quit the post in order to devote time to fight the 1984 anti-Sikh riot cases against Congress leaders. On Thursday, the AAP MLAs were once again called by Manish Sisodia for their opinion on the selection of a new name and the majority of those present agreed with the name of Harpal Cheema.
Expressing his discontent over the removeal, Khaira said; ""I was not interested in becoming the LoP... But they (party high command) took an undemocratic decision (to remove him as LoP) and they will have to review that. They should review it".
"One or two persons through tweet cannot take a decision," he said apparently referring to AAP leader Manish Sisodia's tweet on Thursday mentioning that Khaira has been removed as the LoP without assigning any reason for the same.
Watch: Dissent brewing in Punjab unit of AAP
​
​
Khaira said the party high command did not follow the convention in removing him from the post.
"The convention is that the views of MLAs should have been taken (before any decision)," he said.
Rejecting suggestion that his move was anti-party, he said that there is a crisis in Punjab unit of the AAP and need it to strengthen the party at this juncture.
Meanwhile, eight of the party's 20 MLAs today came out against the decision to remove firebrand leader Sukhpal Singh Khaira as the Leader of the Opposition and demanded that it be reviewed.
Party MLAs including Kanwar Sandhu, Pirmal Singh, Nazer Singh, Jagdev Singh and Rupinder Kaur Ruby demanded that AAP should review its decision to remove Khaira as LoP.
A volunteers' convention will be held in Bathinda on August 2 where the issues facing Punjab and crisis which the AAP is facing in the state will be taken up.
Meanwhile, Lok Sabha MP and AAP leader Dharamvir Gandhi came in support of Khaira and said; "This is the policy of Kejriwal-led AAP party. First use, throw and destroy one's political career. They did the same to Sucha Singh Chhotepur. And now Sukhpal Khaira falls victim to its dirty politics".
Sucha Singh also expressed his anger over AAP and said that Kejriwal and his party have looted and misled the state. People of Punjab will never forgive him, he added.