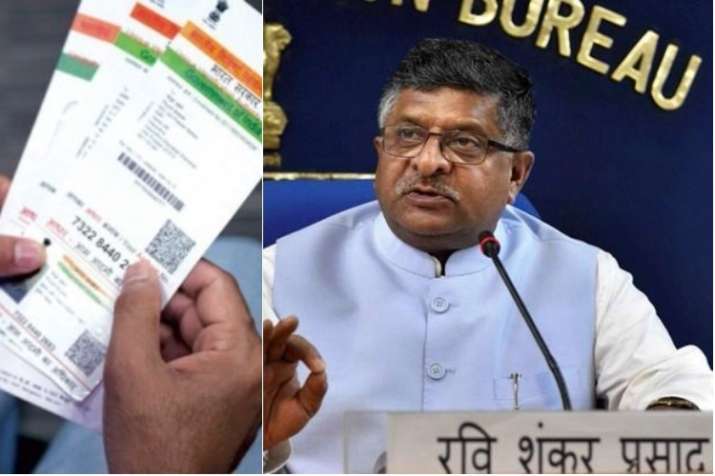 The Centre on Monday defended FIR over a newspaper report on Aadhaar data breach, claiming that it was filed against 'unknown entities' and argued that the government is committed to committed to the freedom of the Press.
"Government is fully committed to freedom of Press as well as to maintaining security and sanctity of Aadhaar for India's development. FIR is against unknown," Prasad said on social media platform Twitter. 
The Delhi Police has registered an FIR (First Information Report) on a UIDAI official's complaint over a newspaper report on alleged data breach of Aadhaar details, naming the reporter behind the story, even as the daily said it will defend its freedom to undertake investigative journalism.  
Unique Identification Authority of India (UIDAI) Deputy Director BM Patnaik told the police that an input was received from The Tribune that it has purchased a service being offered by anonymous sellers over WhatsApp that provided unrestricted access to details of any of the Aadhaar numbers created in India, the police had said on Sunday. 
On January 5, a complaint was received from Patnaik and the FIR was registered the same day, the police said.  
The Editors Guild Of India sought government intervention for the withdrawal of the case and called for an "impartial" investigation into the matter. 
Criticising the lodging of the FIR, the guild said it was "deeply concerned" over reports that the UIDAI deputy director had registered a complaint in which the reporter of The Tribune, Rachna Khaira, has been named.  
Meanwhile, the  Confederation of Newspaper and News Agency Employees' Organisations also urged the UIDAI to withdraw the FIR
The newspapers'union, in a statement, condemned the UIDAI, saying it should highlight errors in the report, if any, instead of taking penal action. 
"The action amounts to an attack on the freedom of the press and also denial of access to the press from reporting any news unpalatable to those in authority," it said.  
The Tribune reporter has been booked under the Indian Penal Code sections 419 (punishment for cheating under impersonation), 420 (cheating), 468 (forgery), 471 (using a forged document) and also under sections of the Information Technology Act and the Aadhaar Act.
Prasad said: "I've suggested UIDAI to request Tribune and its journalist to give all assistance to police in investigating real offenders."
(With inputs from PTI)