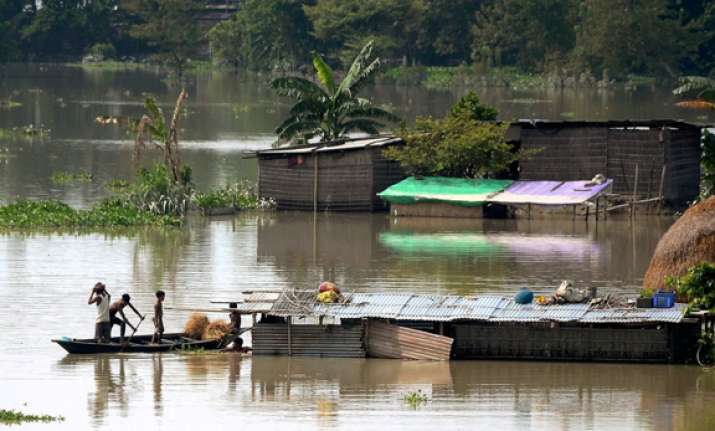 Floods continued to wreak havoc in Bihar, Uttar Pradesh and Assam which reported 88 more deluge-related deaths on Sunday, while West Bengal heaved a sigh of relief in the absence of major rainfall. 
Bihar 
The death toll in Bihar floods rose from 202 to 253. 1.26 crore people are grappling with the flooding in 18 districts of the state. 
Till Saturday, the number of causalities was 202. Araria accounted for 57 deaths, Sitamarhi 31, West Champaran 29, Katihar 23, East Champaran 19, a Disaster Management department release said. A total of 4.21 lakh people have been shifted to 1,358 relief camps in different parts of the state, it said. 
Assam
Meanwhile, four more persons lost their lives in Assam and nearly 19 lakh people were suffering in 15 districts of the state. At present, 18.65 lakh people are affected in Dhemaji, Lakhimpur, Biswanath, Barpeta, Bongaigaon, Chirang, Kokrajhar, Dhubri, South Salmara, Goalpara, Morigaon, Nagaon, Golaghat, Jorhat and Majuli districts.
Till Saturday, 22 lakh people were struggling with the latest spell of floods across 16 districts. The third wave of floods has claimed 67 lives so far in Assam. The the total number of deaths in this year's flood- related incidents has gone up to 151. 
In Morigaon, which has been hit hardest, 5.21 lakh people have been marooned. 4.67 lakh people are affected in Barpeta. 
Currently, 1,493 villages are under water and 1.15 lakh hectares of crop area is inundated. 
Uttar Pradesh
Officials said 33 more deluge-related deaths have been reported in Uttar Pradesh over the last two days. The figure of flood casualties in the state now stands at 69. Over 20 lakh people have been marooned in 24 districts. 
The relief commissioner's office said 39,783 people have taken shelter in relief camps in the affected districts of eastern UP where there was no let up in flood fury. Raging waters of the rivers emanating from Nepal have caused havoc in vast swathes of human habitation in the region. 
Army choppers, NDRF and PAC (flood) jawans continued relief and rescue operations in the badly hit areas. 
The release of water in the rivers emanating from Nepal and incessant rains impeded rescue work and evacuation of people to safer areas. 
West Bengal
The situation has improved a lot in six flood-hit districts of north West Bengal as there has been no major rainfall over the past three days. 
There has been no report of any flood-related deaths in the last 24 hours, a senior official of the West Bengal Disaster Management department said. So far, 55 people have died in the floods since July 21.
Nearly 55 lakh people have been hit by the deluge in Cooch Behar, South Dinajpur, North Dinajpur, Jalpaiguri, Alipurduar and Malda.