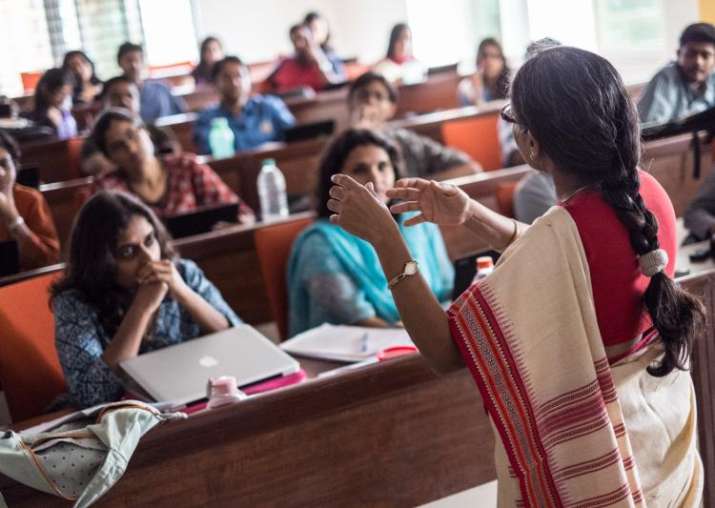 With the Union Cabinet set to take up a UGC panel's recommendation, around 8,00,000 teachers and staff working in Centre and state government-run colleges, universities and institutions are set to get a massive pay hike in the range of 22-28 per cent.
The Cabinet will first aim at rolling out the pay hike, and the decision on allowances would be taken by the HRD Ministry at a later date.  
As per the proposal, an assistance professor's entry pay would go up by Rs 10,396 with a grade pay of Rs 6,000 while that of an associate professor will rise by Rs 23,662.
Similarly, the entry pay of the Vice Chancellor, which currently is Rs 1,75,200, will jump by Rs 49,800 as per the proposal. 
With the last pay hike being implemented way back in 2006, several teachers' associations of various universities and colleges have been threatening to go on strike over the delay in implementation of the seventh pay commission even after the UGC panel submitted its report in February this year. 
The pay revision will take in its purview almost eight lakh faculty members and non-teaching staff employed in Central and State government-run universities, alongside technical institutions like IITs, IIMs, IISERs and NITs. 
The pay hike—estimated to cost the government Rs 75,000 crore over three years—was also taken up for discussion at the PMO on Monday, says an Economic Times report. 
The report cited sources saying that the pay hike will apply to the next three years, mapping on the 7th Pay Commission recommendations to the educational institutes and according a near 15 per cent average salary increment.
As per 7th pay commission fitment formula, a teacher's salary will be revised by a multiplier of 2.72 (applied to the basic salary and academic grade pay) for professor and above and a multiplier of 2.67 for assistant professor and above.