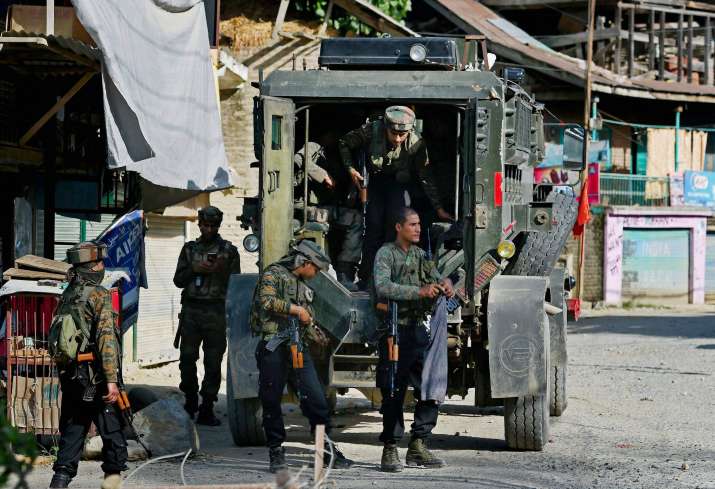 In what was a very bloody day for the Kashmir Valley, six policemen and two civilians lost their lives while  three militants were also gunned down by security forces. An encounter broke out between security forces and militants around 10 am at Arwani village in Jammu and Kashmir's Bijbehara in which a Lashker-e-Taiba commander was killed. 
In what has now become a norm in the Valley, civilians soon descended on the security forces with stones. Two civilians were killed in the crossfire between the forces and the militants. 
Hours later, terrorists ambushed a police party in the outskirts of Anantnag district and killed six policemen, including a Station House Officer of Achabal area. 
Arwani encounter 
The encounter broke out at 10 am at Arwani village in Bijbehara, 51 km from Srinagar, in which 10 other civilians were injured.
The encounter started after security forces, including army personnel, cordoned off a house at Malik Mohalla in Arwani village following an intelligence tip-off that three militants were present inside. Bodies of three militants, including top Lashkar-e-Taiba (LeT) commander Junaid Mattoo, were recovered by the security forces today. 
Security forces cordoned off the house by 8 am on Friday and there was a patient wait for two hours before the first fire came from the house at 10 am.
Two civilians were also killed and 10 others injured in clashes with the security forces. Mohammad Ashraf Khar (34) was killed in crossfire when the encounter started at 10 am. Ahsan Mushtaq (15) was killed after he was hit by bullets near the site of the encounter, a police official said. 
It was, however, not clear whether the duo were part of the stone-pelting mob who tried to disrupt the anti- militancy operation in the village, the police said.
The accompanying teams of the local police and CRPF used tear gas shells and resorted to firing pellets after the crowd began hurling stones at the troops, thereby, hampering the counter-insurgency operation.  
Following the civilian killings, clashes broke out between protesters and security forces at nearly a dozen places in the Valley, including Jamia Masjid in downtown Srinagar, Tral, Pampore, Pulwama town and Anantnag in south Kashmir, Hajin in Bandipora and Sopore in Baramulla in north Kashmir. 
Achabal ambush
In what is seen as a revenge by terrorists, a police party was ambushed in the outskirts of Anantnag district of South Kashmir and six policemen were killed. 
The terrorists, suspected to be from th LeT, shot at the policemen with their assault rifles after overpowering them. The terrorists first overpowered them, then fatally shot them in their faces from close range and escaped with their weapons. 
The incident took place in the evening when Feroz Ahmed, a 2010 batch Sub-Inspector, was on his way to the police station at Achabal after completing his duty in Anantnag. 
The militants had laid an ambush on Anantnag-Achabal road near Kulgad village and fired at the police party. The police were not travelling in a bullet proof vehicle. 
All the six policemen including Ahmed died on the spot, senior police officials said. Army has been called out to undertake a combing operation in the area. 
The police said that the terrorists disfigured the faces of martyred policemen before walking away with their weapons. 
32-year-old Ahmed, a resident of Dogripura in Awantipora, was a father of two daughters aged six and two. 
The other deceased officers include constables Sharik Ahmad and Tanveer Ahmad (Budgam district), Sheraz Ahmad (Achabal), Asif Ahmad and Sabzar Ahmed (Anantnag).
Pakistan-based Lashker-e-Taiba claimed responsibility for the attack, police said, adding it seems they wanted to take revenge of the Arwani encounter in which their local commander Junaid Mattoo is believed to have died.
Restrictions imposed in Kashmir Valley
Authorities imposed restrictions in Srinagar and other parts of the Kashmir Valley as the separatists have called for a protest shutdown on Saturday.
Srinagar District Magistrate Farooq Ahmad Lone said restrictions were imposed in the areas of Rainawari, Khanyar, Nowhatta, M.R. Gunj and Safa Kadal to maintain law and order.
Heavy contingents of police and the Central Reserve Police Force (CRPF) were also deployed.
Train services between Baramulla and Bannihal towns were suspended. Exams scheduled for Saturday were postponed by Kashmir University.
Shops, public transport and educational institutions remained closed.