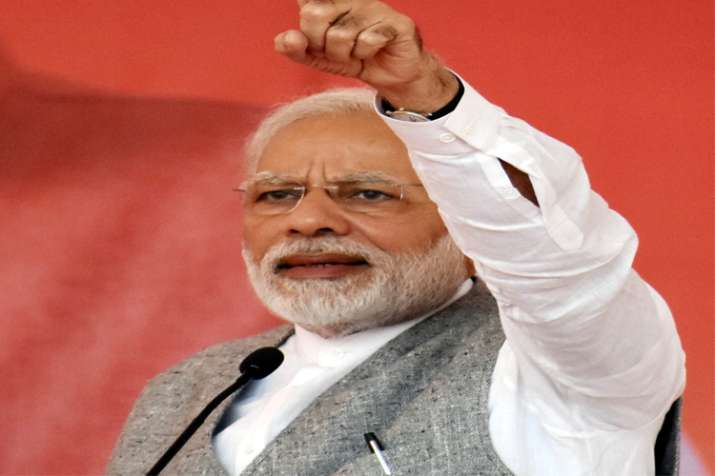 Prime Minister Narendra Modi on Sunday addressed the 50th edition of Mann Ki Baat radio talk show. The programme is aired every month on the last Sunday on All India Radio and Doordarshan.
"On October 3, 2014, we began the journey of 'Mann Ki Baat'. With your blessings, this journey completes 50 episodes tomorrow (Sunday), of sharing joy, positivity and amplifying the power of collective efforts. I hope you will enthusiastically tune in tomorrow for the 50th episode," Modi tweeted.
The last episode was aired on October 28. 
Important excerpts from Mann Ki Baat:
Cleanliness, road safety, drug free India and selfie with daughter are some of the initiatives that the media campaigned for in a creative manner. T.V channels have made it the most watched radio programme: PM

Today, the youth is very ambitious, they think big. It's good, dream big&achieve great success - this is New India. People say the young generation wants to do so many things at the same time.I say what's wrong in that?They're good at multitasking so they do that: PM

I thank the media for playing Mann Ki Baat in their channels on a regular basis. No political person is ever happy with the media, they think they don't get enough coverage or get negative coverage, however the media has made the issues raised in programme their own: PM

Let us reiterate our commitment to preserving the values of our Constitution: PM

Our Constitution talks about both rights and duties: PM

Tributes to the makers of the Constitution. The working of the Constituent Assembly gives us lessons in time management and productivity: PM

Youngsters from India are excelling in various fields: PM
It is a good thing our youth are asking questions: PM
When it comes to youngsters- accept rather than expect: PM
Our youth is all set to scale new heights of glory: PM
It is the youth of our country who are bring positive change in the society: PM
I always try to connect with the youth via social media: PM
When Mann Ki Baat started I decided that politics will not be a part of it, it'll neither have the praises of the government nor my name. I got the inspiration and strength to stay true to my resolution from all of you: PM
This is a 'Mann Ki Baat' of 130 crore Indians: PM
I want to thank all those who contributed to 'Mann Ki Baat': PM
'Mann Ki Baat' - about people and not politics: PM
Many people want to know how did the idea of a programme like 'Mann Ki Baat' come. Today, I want to share it: PM
Radio is powerful means of communication: PM Modi 
We began the 'Mann Ki Baat' journey on 3rd October 2014 and today we have the Golden Jubilee episode: PM
The radio broadcast has in its previous episodes covered issues of social, national as well as international implication: education of the girl child, tackling exam stress, climate change and drug menace.
In the first episode, the Prime Minister urged the citizens of the country to use at least one khadi product, saying it would help poor weavers. "Subsequently, the sale of khadi products went up by 120 per cent," an official release said. 
Taking cue from a listener, Modi dedicated the entire December 2014 episode to making India drug-free. He requested all those active on the social media to create a continuous online movement by using #DrugsFreeIndia hashtag. 
The episode in January 2015, was the first ever joint radio address by an Indian Prime Minister and an American President.
PM Modi and then US President Barack Obama shared some personal stories and accounts and answered questions like "what makes you smile after a long day at work?" or "did you ever think you would reach the position you have reached today?" 
The PM also discussed how exams should be celebrated as a festival. The PM followed it up with a book titled "Exam Warriors" which discussed how to deal with exam pressure as well as a community-driven initiative to make exams fun. 
In May 2015, the PM talked extensively about June 21 being declared by the United Nations as the 'International Yoga Day'. 
In June 2015, the prime minister shared the account of a Haryana village sarpanch who launched #SelfieWithDaughter campaign and the hashtag soon became a social media rage with millions of posts from citizens from all walks of life -- celebrities, national as well as global leaders, the statement said. 
Modi had termed the initiative special for Haryana as the state has a skewed sex ratio.
WATCH VIDEO: 
(With inputs from agencies)