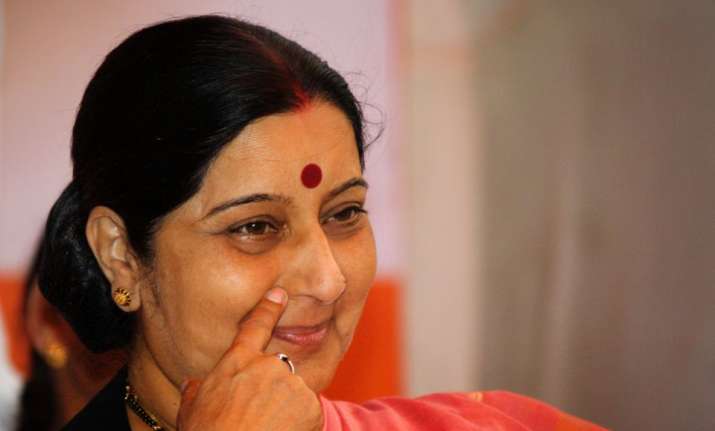 There is no denying that our External Affairs minister Sushma Swaraj is one of the most active ministers on social media. And she is, by far, the most easily approachable minister we've ever had.
 
There have been umpteen occasions where she has proven to be just the type of minister our country needs. No wonder then that US daily The Washington Post has also showered praise on our minister for her proactive role on Twitter, calling her 'Supermom of the State'. In an article titled 'India's foreign minister is cast as Supermom of State', the newspaper enlists her Twitter achievements.
 
She has also proven time and again why trolling her on Twitter is not a good idea. Of course, the witty replies make her well-equipped to handle the trolls.
 
So, here are the list tweets where her response deserved nothing short of an applause:
 
1) Remember the refrigerator episode when a Twitter user asked for her help in getting his refrigerator fixed?
 
On 13 June, a Bengaluru resident approached Swaraj on Twitter with an extraordinary complaint – to get his defective refrigerator replaced.
 

 
It wouldn't have been surprising if the minister had chosen to ignore the man's plea. But she decided to reply. And this is how she did it..
 

Brother I cannot help you in matters of a Refrigerator. I am very busy with human beings in distress. https://t.co/cpC5cWBPcz

— Sushma Swaraj (@SushmaSwaraj) June 13, 2016
Her tweet not only shows her sense of humour, but also her humane side, a very rare trait displayed by Indian ministers.
2) When Sushma Swaraj was unable to attend the swearing-in ceremony of new ministers
 
When the minister was unable to attend the swearing-in of ministers after the Cabinet expansion because she had a meeting with the Foreign Minister of Hungary, she took a dig at media with a tweet that won the Internet.
 
She obviously anticipated that her absence would be noticed and before speculations started doing the rounds, she thought it best to take precautions.
 
"Media – Pl avoid the headline : 'Sushma skips Oath Ceremony'," she tweeted which went viral within hours of posting.
 

Media - Pl avoid the headline : 'Sushma skips Oath Ceremony'.

— Sushma Swaraj (@SushmaSwaraj) July 5, 2016
3) External Affairs not extra-marital minister! When a woman tweeted Sushma complaining of her husband cheating on her.
When a distressed Indian woman came knocking on her Twitter wall for help, Sushma Swaraj admitted that she had 'no power' to help her over her 'errant husband'.
 
The woman, who goes by the name Sujatha, claimed that she was in Delhi for the funeral of her mother and she found out that her husband told her son about his plans to leave her while she was heading back to Kuwait.
 
She alleged that her husband sent pictures of him hugging another woman and also told him that he'll "dump" his mother for the woman in the pictures.
 
Swaraj, in her own way responded to her request! This is what she tweeted.
 

Sujatha - All my sympathies are with you. Unfortunately, I have no power to punish or reform such errant husbands. @SujathaSuukri

— Sushma Swaraj (@SushmaSwaraj) August 31, 2016
4) Active on Twitter, but don't take her for granted. 
My brand new car volkswagen jetta. fear to drive in road. cause spread out white smoke heavy in exaust @sushma swaraj  
This man is utterly stupid. @babuenterprises

Pls don't waste ur time @SushmaSwaraj pic.twitter.com/0AvaHnKQ3C

— Victor_Speaks (@Voice_of_Victor) August 9, 2016
Although his Twitter account does not exist now, she did choose to stick to her ways and responded in the most impressive way.  
I am so sorry. Please take your Car to a workshop. https://t.co/J9fFlTyTYh @babuenterprises

— Sushma Swaraj (@SushmaSwaraj) August 9, 2016
5) When a woman's tweet sparked Swaraj's interest, and her sarcastic side
(Sushma Swaraj is so damn cute :) I wish she had a son...I would have left the whole world for his mom)
Sushma Swaraj is so damn cute :) I wish she had a son...I would have left the whole world for his mom :P

— Neha Gupta (@ne_hah) August 9, 2016
(Sushma Swaraj Tweet (This is interesting.)  
This is interesting. https://t.co/ehFYGmiEgb

— Sushma Swaraj (@SushmaSwaraj) August 9, 2016
And the list goes on.
 
It's not surprising then that she is the most followed woman leader on Twitter. Our Prime minister Narendra Modi may be way ahead of her in terms of the number of followers, but she is the one winning our hearts.
 
But recently, it was her husband Swaraj Kaushal who stole the show on Twitter.
 
And he did that with a single witty comeback.
 
When a Twitter user asked the minister why she does not follow her husband Kaushal Swaraj, former Governor of Mizoram and a noted lawyer, on Twitter, despite him following her, Kaushal filled in before Sushma could respond. 
Hi mam @SushmaSwaraj ji, @governorswaraj is following you on Twitter but you don't follow him, Can I ask why with all respect?

— 🚶shishir, IN (@theshishirnayak) September 4, 2016
Sushma Swaraj's husband replied: 
"I have followed her for 45 years - Can't change things now."
— Governor Swaraj (@governorswaraj) September 5, 2016
Earlier in August, Swaraj tweeted a picture of her and her husband holding hands in public after they bumped into each other in Parliament.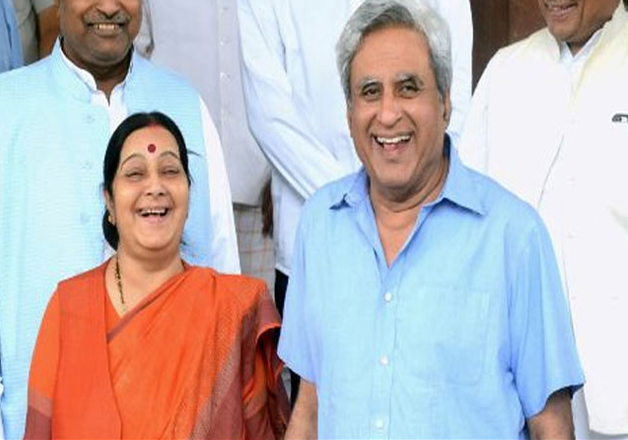 All we can say is that if Twitter were a competition, the Swaraj family was easily winning the game!!