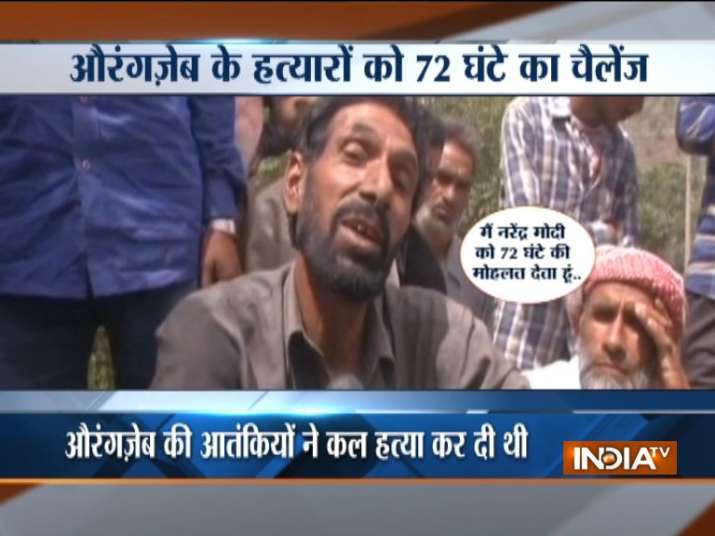 The Kashmir valley is seething with anger after the killing of Aurangzeb, a soldier posted with 44 Rashtriya Rifles.
Aurangzeb, a resident of Kashmir, was abducted by terrorists from Kalampora in Pulwama on Thursday morning while he was on way to his home in Rajouri district for Eid celebrations.
His bullet-ridden body was recovered from Gussu village, about 10 km away from Kalampora, in Pulwama district on Thursday evening.
Aurangzeb's father Mohammad Haneef has given an ultimatum to the government for avenging the killing of his son. He has warned that if the government fails to do so then he will take the revenge on his own.
"Am giving Narendra Modi 72 hours for avenging my son's killing, otherwise we are ready to take revenge on our own," Aurangzeb's father said.
According to police, Aurangzeb was shot in his head and neck.
Aurangzeb belonged to 4 Jammu and Kashmir Light Infantry and was posted at the 44 Rashtriya Rifles camp at Shadimarg in Shopian, the police said.
 
At about 9 am, Army men from the unit stopped a car asking the driver to drop Aurangzeb in Shopian, officials said, recounting what had happened.
 
Terrorists stopped the vehicle as it approached Kalampora and abducted the jawan. 
Aurangzeb's father said that his son called him on Wednesday to inform that he was coming home on Thursday.
"On Thursdau morning, he called to say that he had left for home.I heard people shouting "stop, stop". After that, the his mobile was switched off," he said.
'Avenge my son's killing within 72 hours', Aurangzeb's father tells PM Modi