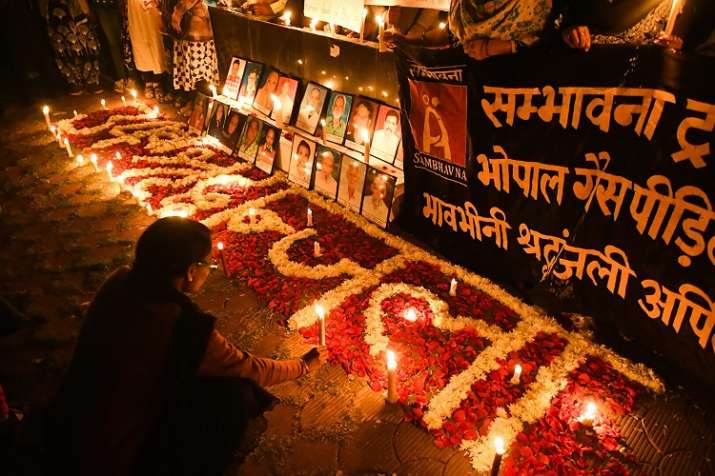 34 years ago, on this day, tragedy struck the country in the name of Bhopal gas leak. In what can be termed as the world's worst industrial disaster, more than 15,000 people were killed after methyl isocynate leaked on the intervening night of December 2-3, 1984 from the pesticide plant of Union Carbide India Limited (UCIL) in the city.
More than five lakh people were affected due to the toxic leak, the cause of which remains under debate till date. 
Even after three decades of the deadly disaster, survivors continue their fight for proper rehabilitation and adequate compensation.  Various organisers have come in support of the survivors. 
The survivors' bodies including the Bhopal Gas Peedit Mahila Stationery Karmchari Sangh, Bhopal Gas Peedit Mahila Purush Sangharsh Morcha, Children Against Dow Carbide and the Bhopal Group for Information and Action (BGIA) issued a joint statement on Sunday accusing the Madhya Pradesh and central governments of neglecting the victims.
Rachna Dhingra of the Bhopal Group for Information and Action said, "Recent scientific studies show that deaths and diseases attributable to exposure to Union Carbide's gases continue to occur in Bhopal. Yet, over 80 per cent of the recommendations of the Supreme Court-appointed monitoring committee for medical rehabilitation of victims remain to be implemented. Further, funds meant for providing employment to survivors and their children are being diverted for building roads, drains and parks by a minister for his electoral constituency, she alleged.
President of the Bhopal Gas Peedit Mahila Stationery Karmchari Sangh Rashida Bee said, "Since 2004...the contamination has spread to 42 settlements around the factory with a population of over one hundred thousand. But, the governments at the state and the centre have done nothing."
While claiming that about 20,000 persons died due to the gas tragedy and its subsequent effects, convener of Bhopal Gas Peedit Mahila Udyog Sanghathan (BGPMUS) Abdul Jabbar said, "The pittance which was disbursed as compensation in most instances was never enough to take care of their daily needs. "Finding gainful employment in accordance with the reduced capacity to work, and to lead a dignified life has been a serious challenge for survivors," he said.
Accusing the state government of persistent apathy, Jabbar said, "Proper protocol for treatment of most gas-related ailments has not been evolved even after 34 years."
Jabbar also alleged that the toxic waste generated during UCIL's operation from 1969 to 1984 was dumped in and around the plant, leading to severe soil and water contamination.
"A comprehensive study to estimate the extent and gravity of the damage has not been carried out. Instead, the magnitude of the problem has been grossly underestimated by authorities," he said. 
Meanwhile, the survivors of the tragedy took part in torch rallies in Bhopal to pay tributes to the victims of the deadly cataclysm.