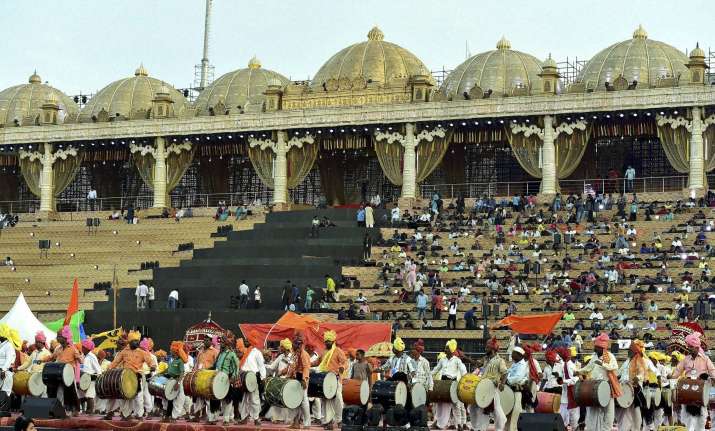 New Delhi: World Culture Festival (WCF), a 3-day jamboree to mark 35 years of spiritual guru Sri Sri Ravi Shankar's Art of Living (AoL), begins on the banks of the Yamuna today with reports suggesting that the organisation appears to be softening its stance after initially saying that it will not pay the fine.
Sri Sri Ravi Shankar's comments that he would not pay Rs 5 crore fine slapped by the NGT and was prepared to go jail if the court wanted him to, triggered speculation about the course likely to be adopted by AoL. However, after a hearing at NGT on Thursday, AoL said that things were changing every moment and they have time to comply with the tribunal's order.
"We have lot of time as the event is beginning tomorrow (Friday) evening. Things are changing every moment. We are focusing on things to make the event successful," Akshama Nath, counsel for AoL, said when asked if the foundation was willing to pay the fine.
The AoL has time till today evening to give initial environmental compensation of Rs 5 crore for holding its World Culture Festival on Yamuna flood plains.
Meanwhile, Sri Sri has conformed that Prime Minister Narendra Modi will attend the inaugural function of the event today which will witness shehnai-like musical instrument played in south Indian temples and Vedic chants by a thousand Sanskrit Pandits.
The NGT had on Wednesday imposed an initial fine of Rs 5 crore on AoL and said it should be held liable for restoration of 'damage caused to environment, ecology, biodiversity and aquatic life of the river'. In its order, the NGT had also imposed a fine of Rs 5 lakh on Delhi Development Authority (DDA) and Rs 1 lakh on the Delhi Pollution Control Committee (DPCC) for failing to discharge their duties.
A day later, Sri Sri Ravi Shankar said in a TV interview that he will not mind going to jail if the court wants him to. Asked if he would go to jail for refusing to pay the fine for the three-day World Culture Festival here, Sri Sri Ravi Shankar said: "Yes, I will. The structure created for the event is temporary and will be dismantled after the event. We wanted to create awareness about Yamuna through this event."
IMD warns of thunderstorm, hailstorm
The MET department has issued warning about the thunderstorm accompanied by hailstorm at some places of the country over next three to four days. The weather office's prediction of heavy rains for Saturday gave anxious moments to the organisers who were giving final touches to their preparation for the event that will conclude on Sunday.
Director General of IMD, LS Rathore said, a western disturbance is active over the North west India which will cause thunderstorm with strong winds and isolated hailstorm.
IMD warning says in Bihar, Jharkhand and Gangetic West Bengal thunderstorm and hailstorm will occur on 13th & 14th of this month.
Met department has issued advisory to the farmers to undertake harvesting of matured crops at the earliest and postpone irrigation. They have also been advised to keep harvested produce in safer place and maintain proper drainage channels.