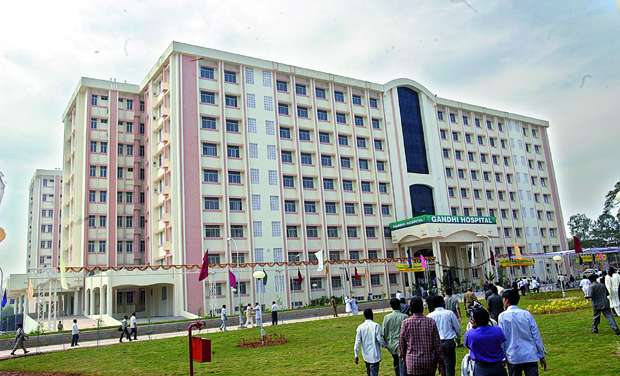 In a shocking incident, 21 patients died on Friday at the state-run Gandhi Hospital in Hyderabad and the medical staff blamed power outages for the deaths. 
According to a report in The Times of India, some doctors at the premier 1,200-bed medical facility asserted that electricity first tripped at 3pm and then continued to do so at regular intervals. 
The hospital claimed that the four generators, which were on standby, had developed snags and could not be used. Also, they were not able to find the cause of tripping. 
The 21 deaths occurred in the hospital's speciality wards, including the respiratory intensive care unit, surgical intensive care unit, non-natal intensive care unit, acute medical care unit and the emergency ward. All these wards were affected by the power failure on Friday. 
On the other hand, Telangana health minister Dr C Laxma Reddy said that the state-run hospital should not directly blame the power outages for the deaths as they mostly get last-stage cases. 
Meanwhile, C V Chalam, superintendent of Gandhi Hospital, said that each of the deaths would have to be probed in order to find out if any of them was directly or indirectly linked to the power outage. 
Professor Chalam also told that he was there at the hospital till 12:30am supervising the engineers who were trying to restore power supply and that the power was cut off to repair the lines after the regular outages. 
He also told that the hospital had faced a similar situation last month when they had relied on its four generators. 
"There is a three-phase power supply to the hospital, but with the lines tripping on and off, our staff found it difficult to manage uninterrupted supply," Professor Chalam told The Times of India. 
Moreover, a hospital source told that some of the patients who died on Friday were on life support system like ventilators and incubators. 
A senior doctor told that he had to use his mobile phone torch to carry out an emergency surgery on a 28-year old man who was suffering from intestine infection. 
Another source told that although ambu-bags, which provide hand-pressed oxygen, were used on all patients, the job of regulating the amount of gas was left on attendants who may have administered it incorrectly. 
Rajaram Reddy, divisional engineer at the Southern Power Distribution Company, Secunderabad, confirmed the power failure at the hospital. He told that due to some problems at the local sub-station, the supply was affected between 9pm and 10:45pm. 
Accepting that they were aware of the fault in the generating equipment at the hospital, he told that the supply was restored at 10:45pm.