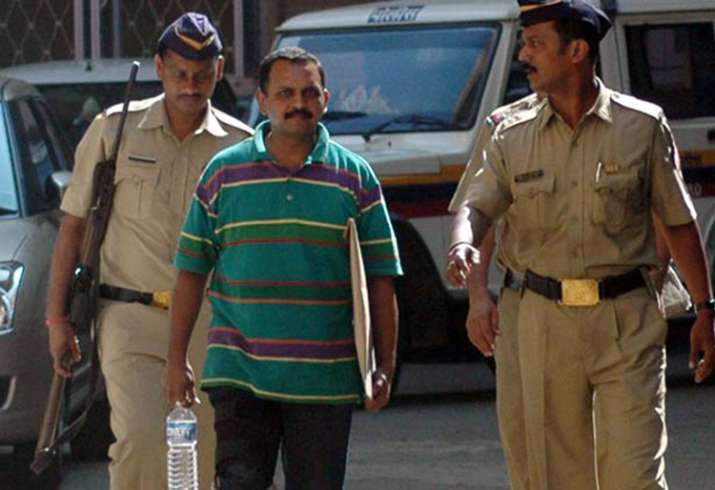 Malegaon bomb blasts accused, former Lt Col Prasad Purohit today charged the Maharashtra Anti-Terrorism Squad of fabricating evidence against him in the 2008 case.
In his plea in the Bombay HC against a sessions court order rejecting his bail application, Purohit said that even the National Investigation Team (NIA) disagreed with the ATS probe.  
Purohit was arrested on November 5, 2008 for his alleged involvement in the conspiracy that was hatched by right wing groups between January and September 2008 to carry out blasts in the Muslim-dominated Malegaon city.  
While the probe was handled by ATS, it was later transferred to the NIA which dropped the stringent provisions of Maharashtra Control of Organised Crime Act (MCOCA) from the case and also gave a clean chit to some of the accused, including prime accused Sadhvi Pragya Singh. 
A division bench of Justices R V More and Shalini Phansalkar Joshi is hearing the bail appeal filed by Purohit.
Purohit's lawyer Shirkanth Shivade today alleged that the ATS had planted false and fabricated evidence against his client and this was clearly evident from the charge sheet filed by NIA. 
"Purohit was taken in custody from the Indian Army on October 29, 2008. He was illegally detained and tortured by ATS. On November 3, 2008, ATS officers planted RDX in a room and claimed Purohit had revealed about this room during interrogation," Shivade alleged. 
He claimed that several witnesses, when questioned by NIA, had said that the ATS had coerced them into giving false statements. 
"Now there are two contradictory statements of the same witnesses, one to the ATS and the other to NIA. All this will be seen at the time of trial. But now Purohit's custody is not required," Shivade said. 
"The ATS is infamously known for framing innocent persons and planting evidence against accused. In the same case, the CBI has filed FIR against few ATS officers for their involvement in the missing of a witness (Dilip Patidar)," Shivade said. 
The HC will continue hearing the arguments tomorrow.
(With PTI inputs)