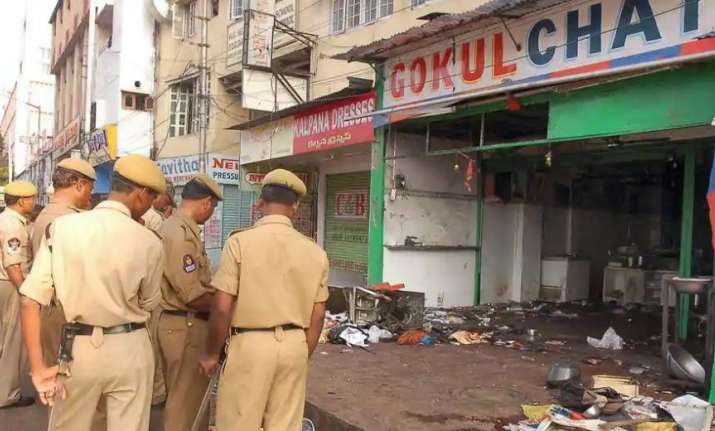 A local court in Hyderabad convicted two Indian Mujahideen operatives while acquitted two other persons in the 2007 Hyderabad twin blasts case on Tuesday. Judgment on one more accused will be pronounced next week. The twin blasts had killed 44 people and injured several others.
Aneeq Shafeeq Sayeed and Ismail Chaudhary were convicted by the court while two more accused in the case - Farooq Sharfuddin Tarkish and Mohd Sadiq Israr Shaik - acquitted. Other two accused Riyaz Bhatkal and Iqbal Bhatkal are absconding.
The near simultaneous blasts at the popular eatery Gokul Chat killed 32 people and left 47 injured, while 12 others died and 21 were injured at the open air theatre at Lumbini Park, a few metres away from the state secretariat in the blasts. 
On August 27, Second Additional Metropolitan Sessions Judge T Srinivas Rao had postponed the judgment in the case to September 4.
The Counter Intelligence (CI) wing of the Telangana Police had investigated the case and arrested five accused, all alleged Indian Mujahideen operatives.
The agency had filed four charge sheets against the five accused and also named two other absconding accused, Riyaz Bhatkal and Iqbal Bhatkal.
Those arrested -- Mohammed Akbar Ismail Chowdhari, Aneeq Shafique Sayeed, Farooq Sharfuddin Tarkash, Mohammed Sadiq Israr Ahmed Shaik and Tarik Anjum -- were produced before the court on August 27 through video conferencing from Cherlapalli Central Prison, where they are currently lodged.
The trial against five accused in the case was shifted to a court hall located on the premises of Cherlapalli Central Prison from a court located in Nampally Court complex in June this year.
The accused were charged under section 302 (murder) and other relevant provisions of the IPC and sections of Explosive Substances Act in connection with the twin blasts on August 25, 2007, and also with regard to the recovery of an unexploded bomb found under a footover bridge at Dilsuknagar area.
According to the prosecution, Aneeq Shafique Sayeed allegedly planted the bomb at Lumbini Park while Riyaz Bhatkal planted the bomb at Gokul Chat while the unexploded bomb was planted by Ismail Chowdhari.
Tarik Anjum is accused of giving shelter to the other accused after the blasts.