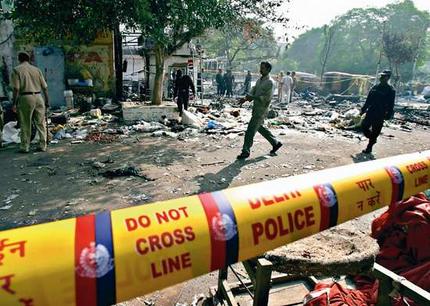 A Delhi court today sentenced Tariq Ahmed Dar, the alleged mastermind in the  2005 Delhi serial blasts that killed over 60 people and injured about 200, to 10 years in prison, while acquitting two others in the case.
Dar has been hed guilty under the UAPA (unlawful activities prevention act). Under this act, the maximum punishment is 10 years jail term, which he has already served, hence he will not be sent to prison again.
Additional Sessions Judge Reetesh Singh was scheduled to announce the order on Monday, but put it off for Thursday. Tariq Ahmed Dar, Mohammed Hussain Fazili and Mohammed Rafiq Shah were facing trial in the case.
The court's verdict, however, acquitted Mohammed Rafiq Shah and Mohammed Hussain Fazili of all charges.
The court in 2008 framed charges against Dar, the alleged mastermind, and the other two for waging war against the state, conspiring, collecting arms, murder and attempt to murder.
The Delhi Police chargesheeted Dar, mentioning his call details that allegedly proved he was in touch with Lashkar-e-Taiba (LeT) operatives.
The first blast took place at Paharganj, near the New Delhi railway station at around 5.38pm on October 29, 2005. Police later said the bomb was planted on a two-wheeler parked outside a chemist's shop.
Teeming with usual evening crowd of shoppers and bag-packers, the blast left the area littered with blood on the ground, glass shards and twisted metal of destroyed bicycles and two-wheelers.
The second blast took place in a bus in south Delhi's Govindpuri area, injuring several passengers. The passengers travelling in the bus later recalled a man boarding the bus carrying a bag and refusing to buy a ticket. He then got off quickly, leaving behind the bag.
The alert driver and conductor asked the passengers to disembark. The conductor took hold of the bag and threw it out when the bomb in it exploded. The driver and conductor were among the few people injured.
The third explosion at 6.05pm took place in the Sarojini Nagar market, a business hub which remains choc-a-bloc with shoppers till late in the night. It caused the maximum damage. Police said the explosive device was placed in a Maruti van near a vendor using a gas cylinder, which also exploded. At least 45 people were killed in the market blast.
(With agencies)