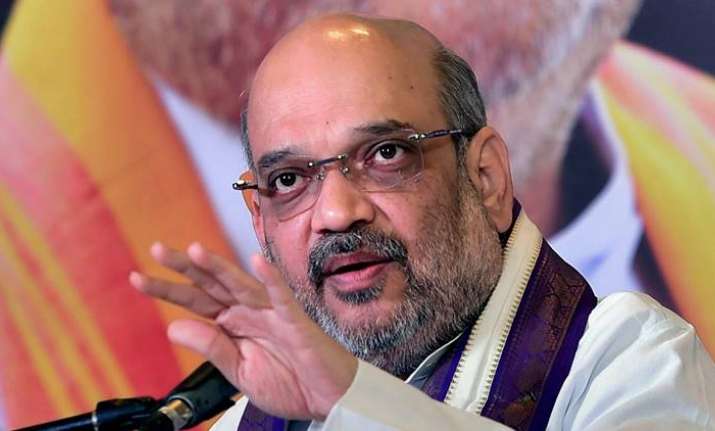 Bharatiya Janata Party chief Amit Shah on Monday appeared before a special sessions court in Ahmedabad to depose as defence witness for former Gujarat minister Maya Kodnani following summons issued in the 2002 Naroda Gam case in which 11 persons were killed.
Kodnani, who was in 2012 convicted in the Naroda Patiya case, had insisted that she was in the state assembly and later at her hospital when the killings occurred on February 28, 2002.
Here's what the BJP president told the SIT court on Monday:
1. Former Gujarat minister Maya Kodnani was present in Gujarat assembly on the morning of the Naroda Gam riot on February 28, 2002.
2. Amit Shah said he had met Kodnani at the Sola Civil Hospital on the morning of February 28, 2002, when the said riots took place.
3. The state police had escorted Shah and Kodnani to a safe place as agitated crowds had surrounded them at the hospital.
4. Amit Shah said he did not know where Kodnani went from the hospital after police escorted them some distance away from it.
As many as 14 witnesses have already deposed and have been examined.
The Naroda Gam killings occurred close to another massacre site Naroda Patiya, in which 100 people died. Kodnani wanted to present Shah to testify the veracity of her claims since, according to her, he was with her all the time.
Kodnani, who was an MLA in 2002, was made a junior minister in Chief Minister Narendra Modi's government in 2007. Kodnani has been convicted and sentenced to 28 years in jail in the Naroda Patiya riot case in which 96 people were killed.
What Kodnani had stated in court earlier:
# On the day of the Naroda Gam riot near Ahmedabad, Maya Kodnani said, she had visited the Sola Civil Hospital after attending the Legislative Assembly and was not present at the spot where the violence took place.
# Shah, then an MLA, was also present at Sola Civil Hospital where bodies of the karsevaks killed in the Sabarmati Train burning incident were brought from Godhra. Shah's testimony would help prove her `alibi', that she was present elsewhere when the crime took place, she said.
Three weeks ago, the Supreme Court had asked the SIT court to conclude the trial within four months. A bench headed by then Chief Justice J S Khehar asked the lower court to complete recording of evidence of defence witnesses in two months.
Eleven Muslims were killed in Naroda Gam area on February 28, 2002, a day after the Godhra train burning. A total of 82 persons are facing trial in the case.
Naroda Gam is one of the nine major 2002 communal riot cases which were investigated by the Supreme Court-appointed Special Investigation Team.
(With PTI, IANS inputs)