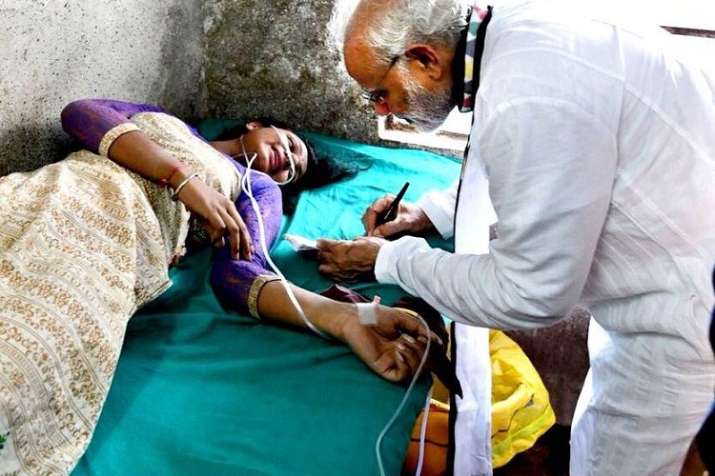 An encounter can change one's life. This is what exactly happened to Rita Mudi, who was among those injured after a portion of a tent collapsed during a public meeting of Prime Minister Narendra Modi in West Bengal's Midnapore district. The 19-year-old Bankura girl rose to stardom after the picture of PM Modi giving her an autograph as she was being treated at the hospital went viral.
In a last ten days, Rita has received two marriage proposals. What is more important is that the grooms have not demanded dowry for her hand in marriage.
Talking about her experience about meeting PM Modi, Rita said; "That day at the hospital when the PM came to my bedside, I told him how happy I was to see him."
Rita added; "I requested for an autograph. I saw him hesitate a bit. But I insisted. He then smiled and wrote, 'Stay well, Rita Mudi'."
The family became popular in Ranibandh area and marriage proposals started trickling in for Ms Mudi, a second-year student at Bankura Christian College.
Bankura: Rita Mudi, girl who was injured after a portion of a tent collapsed during PM's rally in Midnapore & given an autograph by Prime Minister, says, 'I became a celebrity.I & my sister are even getting marriage proposals, but we'll marry after completing studies'.#WestBengal pic.twitter.com/7b2e76LF2E

— ANI (@ANI) July 27, 2018
"After getting his autograph many people came to take selfie with us, they told we have become celebrities and some marriage proposals also came from nearby districts. But I am not taking them seriously as marriage has to wait. I will first complete my studies and then think about it," said Rita Mudi.
Her sister Anita Mudi, a first-year student of Saradamoni college, is also getting similar proposals which are returned with "education first".
More than 90 people were injured when a makeshift tent collapsed at the venue. The incident led to a stampede among people trapped under the scaffolding while PM Modi, who was still speaking on stage, tried to calm down the situation. Not just PM Modi, later even West Bengal CM Mamata Banerjee paid a visit to the hospital were injured were treated.
WATCH VIDEO: