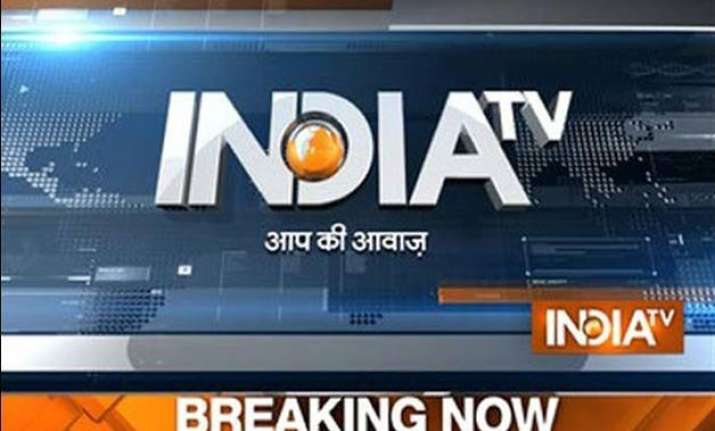 National News-
Anupam Kher rules out joining politics, says 'I am better off being called Modi's chamcha'
Bollywood actor Anupam Kher has ruled out joining politics in the near future, saying he valued his freedom more than joining any political party. Read More
PM Modi and Nitish Kumar share stage in Bihar, show camaraderie
Prime Minister Narendra Modi and Bihar Chief Minister Nitish Kumar today appeared to have left behind the bitterness of the assembly elections and said nice things about each other, as they shared the stage for the inauguration of a rail project in Bihar's Hajipur after attending the centenary celebrations of the Patna High Court together. In fact, in a gracious gesture, PM Modi got up from his seat and waved to the crowd to be silent when they raised chants of "Modi, Modi" while Nitish Kumar was making his speech.
Vijay Mallya a son of Karnataka, he is not running away: HD Deve Gowda
After former J&K Chief Minister Farooq Abdullah, former Prime Minister HD Deve Gowda today came out in support of beleaguered liquor baron Vijay Mallya. Read More
SEBI cracks whip on wilful defaulters; bars them from markets, plum posts
Wilful loan defaulters will no longer be able to raise public funds through stocks and bonds, markets regulator Securities and Exchange Board of India (SEBI) ruled today. They will also be barred from taking up plum posts at listed companies. Read More
Pakistan providing safe haven to terrorists, claim PoK and Gilgit-Baltistan leaders
Exiled leaders from Pakistan occupied Kashmir (PoK) and Gilgit-Baltistan have accused Pakistan for providing terrorists safe haven and allowing use of its soil as a launching pad for militants. Read More
Assam polls: Why is Congress desperate to make the contest 'Narendra Modi vs Tarun Gogoi'?
The strategy of the ruling Congress party for upcoming Assembly elections in the state is very clear – make the fight a direct contest between Prime Minister Narendra Modi and Chief Minister Tarun Gogoi. Read More
International News-
Donald Trump cancels rally in Chicago due to security concerns
Republican presidential candidate Donald Trump canceled one of his signature rallies on Friday, calling off the event in Chicago due to safety concerns after protesters packed the arena where it was to take place. Read More
North Korea's Kim Jong-Un orders further nuclear tests
North Korean leader Kim Jong-Un has ordered further nuclear tests, state media said Friday, as military tensions surge on the Korean peninsula with South Korean and US forces engaged in large-scale joint exercises condemned by Pyongyang. Since the joint drills began Monday, the North has issued daily warnings and statements, talking up its nuclear strike capabilities and threatening to turn Seoul and Washington into "flames and ashes."
Business News-
India's star shines bright in global gloom: IMF chief
With young workforce and continuing policy reform, India has not only emerged as the fastest-growing economy, but its stars also shine bright amid the current global gloom, International Monetary Fund (IMF) Managing Director Christine Lagarde said on Saturday. Read More
Defaulter Member of Parliament Vijay Mallya left India using his diplomatic passport
'Wilful defaulter' and liquor baron Vijay Mallya, who is facing legal proceedings for defaulting on loans of over Rs 9,000 crores, used a diplomatic passport to fly out of India on March 2, a report said today. The passport was issued to him in his capacity as a Rajya Sabha MP of Karnataka. Read More
Entertainment News-
Malaika Arora ignores brother-in-law Salman's advice, all set to divorce Arbaaz Khan
Malaika Arora and Arbaaz Khan's divorce rumours have been making it to the news from quite a while now. There have been evident instances that proved that something was seriously wrong in their love paradise. Read More
Role Reversal: Akshay Kumar did 'baby sitting' while wife Twinkle goes to shoot (See Pics)
Twinkle, on the other hand, too posted about the 'role reversal' on her Twitter account along with a picture of hers from the sets. She wrote, "Today I am at a shoot and the husband is at home baby-sitting #rolereversal". The couple is blessed with two children – son Aarav and daughter Nitara. Read More
Sports News-
India would definitely be in semis of World T20: Dravid
The all-round ability of the current Indian cricket team excites former captain Rahul Dravid, who feels Mahendra Singh Dhoni's men are a certainty for at least the semifinals of the World Twenty20 Championships. Read More
World T20: Pakistani cricket team to arrive in Kolkata today
A 27-member Pakistan cricket contingent left for India to take part in the Twenty20 World Cup, finally ending days of uncertainty over their participation in the mega event. The team will be reaching Kolkata via Abu Dhabi. Read More