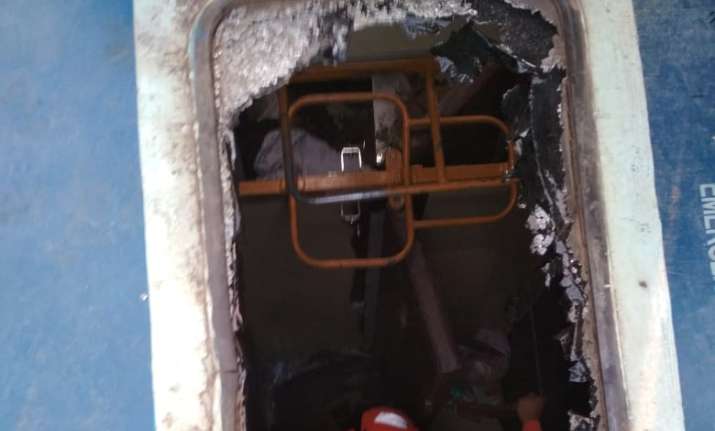 At least six people were killed and 30 others injured as 11 coaches of 12487 Seemanchal Express derailed near Bihar's Hajipur early on Sunday morning. Earlier, principal secretary, disaster management, Pratyay Amrit, had told reporters that seven people died in the mishap.
"It was on account of a communication gap at hospitals in Vaishali district that a mix-up occurred. One dead person at a hospital was counted among those who lost their lives in the train mishap. Later, upon verification, it was found that he was not a passenger of the train," Rajesh Kumar, the chief public relations of East Central Railway, said.
The identities of all six deceased passengers have been ascertained, he said.
"Among the injured, about 30 were rushed to the Sadar hospital at Hajipur, the district headquarters. While eight others with minor injuries were discharged after treatment at a primary health centre in Sahadai Buzurg, where the mishap took place," Kumar added.
State government has done the arrangements for the bodies to be sent to their families in Bengal and Khagaria after post-mortem, an official had said earlier. 
List of deceased passengers
1 Ilcha Devi
2. Indira Devi
3. Shamashuddin Alam 
4. Ansar Alam
5. Shaida Khatoon
6. Sudarshan Das 
According to sources, Jogbani-Anand Vihar Terminal Seemanchal express derailed after a loud thud noise at around 3.58 am near Sahadai Buzurg. Prima facie cause of the accident is rail fracture of CMS  X-Ing at Barauni end of station yard, Rajesh Kumar,CPRO, ECR said. The charge of inquiry has been given to CRS Eastern Circle Latif Khan.
Unaffected 12 coaches were moved to Hajipur where more coaches were attached and train proceeded for Anand Vihar Terminal railway station (ANVT).
Soon after the accident, the Railway Minister's office has said that rescue and relief operations were underway. The ministry has issued helpline numbers -  Sonpur 06158221645 Hajipur 06224272230 Barauni 06279232222 to answer the queries of kin of the passengers. 
Railways has announced an ex-gratia amount of Rs 5 lakh each to the kin of every deceased. Rs 1 lakh would be given to the grievously injured and Rs 50,000 to those who suffered simple injuries, a post on social media by Ministry of Railways said. All medical expenses will also be born by Railways, it said. Additionally, Bihar government has announced to give Rs 4 lakhs each to the kin of every deceased and Rs 50,000 to the injured.
A massive crowd of locals, which had descended on the site of the accident, created hurdle for the rescue workers to carry out the operations. Some miscreants even pelted stones at the NDRF and Railway Police allegedly for not allowing them near the train wreak. 
The police and rescue workers on the spot have to issue request to people to go back. "We are very thankful for the support and help provided by the locals in rescue work, but now we request them to kindly go back and allow passengers to be transported safely," a police official on the site said. 
#SeemanchalExpress derails near Hajipur in Bihar: AT least 6 people have been killed as 9 bogies of the Delhi-bound train derailed. The rescue ops are on. pic.twitter.com/HU6ajSYiLg

— India TV (@indiatvnews) February 3, 2019
As per information received from Sonpur Division, the train passed Mehnar Road  at 3.52 am and derailed at Sahadai Buzurg at around 03:58 am by 9 coaches, an earlier report said. Team of doctors have been rushed to accident site from Sonpur and Barauni, it said. An accident relief train had moved for carrying out relief and rescue operations, official sources told India TV this morning. Two NDRF teams have reached the site of the accident. Evacuation of stranded passenger at site planned by a special train. 
The derailed coaches included three sleepers (S8, S9, S10) and one general and one AC (B3),  East Central Railway spokesperson Rajesh Kumar told media. The trains on Bihar-Delhi route are notorious for overloading and passengers traveling without due reservation. This fact may cause trouble for Railway authorities in identifying injured, deceased or missing passengers. 
Help line numbers
Sonpur 06158221645 
Hajipur 06224272230 
Barauni 0627923222
Bihar: At least 6 dead as 9 coaches of Delhi-bound Seemanchal Express derail near Hajipur; toll likely to rise

Seemanchal Express derailment: Rescue ops are on

Seemanchal Express derailment: Rescue ops are on

Seemanchal Express derailment: Rescue ops are on

Bihar: At least 7 dead as 9 coaches of 12487 Seemanchal Express derail near Hajipur at 4 am
All passenger trains on this route have been cancelled. Also, Uttar Pradesh trains for Chapra have been diverted via Muzaffarpur (MFP)-Chapra. 
Railway Minister Piyush Goyal is reportedly is in touch with Railway Board members and GM ECR regarding developments at accident site. He has directed to effectively undertake relief and rescue operation. He has expressed profound grief over the loss of innocent lives in this tragic accident and wished speedy recovery for the injured.
Prime Minister Narendra Modi expressed grief over the incident. "Deeply anguished by the loss of lives due to the derailment of coaches of the Seemanchal Express. My thoughts are with the bereaved families. May the injured recover quickly. Railways, NDRF, and local authorities are providing all possible assistance in the wake of the accident," he said on Twitter. 
Bihar Chief Minister Nitish Kumar has also expressed grief over the Seemanchal Express derailment has directed the administration to provide all kind of assistance.
बिहार में हुए रेल हादसे से बहुत आहत हूँ|

पीड़ित परिवारों के प्रति मैं अपनी गहरी शोक और संवेदना व्यक्त करता हूँ।

स्थानीय कांग्रेस कार्यकर्ताओं से अनुरोध है कि दुर्घटना से प्रभावित परिवारों की हरसंभव मदद करें।#seemanchalexpress

— Rahul Gandhi (@RahulGandhi) February 3, 2019
Watch live coverage of the rescue ops after the accident on India TV: