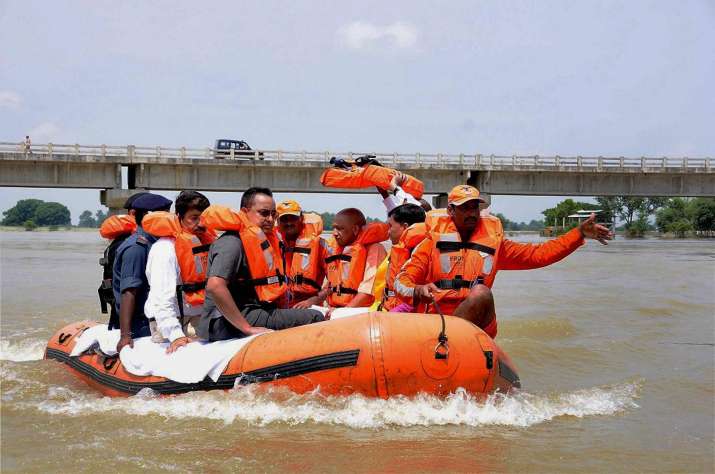 Uttar Pradesh's flood woes continued as the toll rose to 104 today even as heavy rains triggered a landslide in Uttarakhand leading to the death of one person. The flood situation in Assam and Bihar improved significantly. In the national capital, heavy rains brought the mercury down even as traffic was thrown out of gear and water-logging was reported at several places. 
The Safdarjung observatory, figure of which is considered official for the city, received 59 mm rainfall between 8.30 AM and 5.30 PM. 
The humidity level oscillated between 100 and 76 per cent. 
In Uttarakhand, landslide triggered by heavy rain claimed a life in Chamoli district in the early hours when a man was hit by rubble falling from the hillside at Pathiyaldhar basti. 
In Uttar Pradesh, 28 lakh people are affected as raging waters of the rivers emanating from Nepal caused havoc in vast swathes of land. 
Citing a report compiled till yesterday, the state relief commissioner's office said around three lakh people have taken shelter in relief camps in the affected districts of eastern parts of the state. 
"The death toll in the floods has reached 104 in the state, where 3,097 villages in 24 districts are inundated affecting a population of over 28 lakh," it said. 
Army choppers, NDRF and PAC (flood) personnel continued relief and rescue operations round the clock in the severely affected areas of the flood-hit districts of the state. 
In Assam, the flood situation improved although nearly 61,000 people are still affected by the calamity across five districts in the state. 
According to a report by Assam State Disaster Management Authority (ASDMA), over 60,800 people are affected at present in Dhemaji, Chirang, Morigaon, Nagaon and Golaghat districts. 
The total number of people who lost their lives in this year's flood-related incidents in Assam went up to 158, including eight in Guwahati. 
As per the report, Morigaon is the worst-affected with 30,500 people hit, followed by Nagaon with nearly 28,000 people affected in the deluge. 
The flood situation in Bihar improved further with no fresh reports of any causality from flooded regions of the state. 
With water receding in several places, people are returning to their homes with the number of relief camps dropping to 107 from yesterday's 116, a disaster management department release said. 
The death toll in floods remains static at 514, while the number of affected people also stays at 1.71 crore spread over 19 districts, it said. 
The MeT department forecast heavy to very heavy rainfall in all districts of sub-Himalayan West Bengal in the next five days kindling apprehension of flooding of low-lying areas. Coochbehar recorded 110.2 mm rainfall in 24 hours till 8.30 AM this morning, the department said. 
Neighbouring Jalpaiguri recorded 66.8 mm precipitation during the same period. 
After torrential rains brought life to a standstill in Mumbai, the city heaved a sigh of relief as the financial capital recorded no rains today. 
"It did rain in Santacruz but it was so low that it has been recorded as trace. It means it rained but could not be counted," an India Meteorological Department official said.