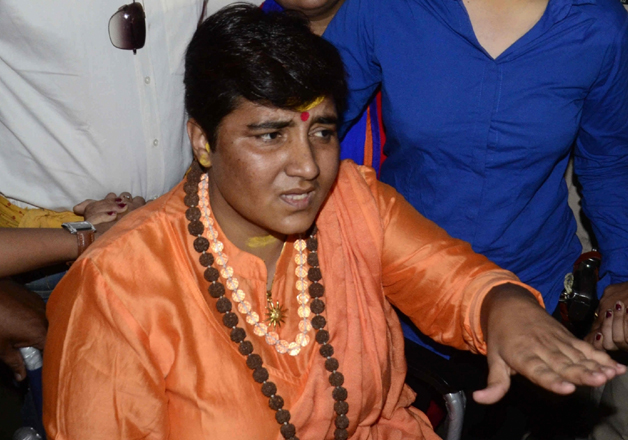 Mumbai: A special National Investigation Agency (NIA) court today rejected the bail application of 2008 Malegaon blast accused, Sadhvi Pragya Singh Thakur.
Special court Judge SD Tekale rejected the bail application at an in-camera hearing after families of the blast victims objected to Thakur's plea. Nisar Ahmed Sayyed Bilal had filed an intervention application and opposed her plea.
The NIA on May 13 had dropped the names of Sadhvi Pragya and four others as 'accused' in the blast case in its charge sheet filed before the special court, citing lack of evidence and revoked provisions of the stringent Maharashtra Control of Organised Crime Act (MCOCA).
India TV brings you a 10 pointer of what the court said while rejecting her bail plea:
1. The court virtually questioned the agency's clean chit to Thakur and observed there are reasonable grounds to believe that the charges against her are prima facie true.
2. The court pulled up the NIA for conducting a fresh investigation under the pretext of carrying out further probe.
3. "It cannot be said that due to filing of further report by the NIA, there is any change in circumstances. If this is the position (of NIA), then merely on the ground that NIA has given no objection, it is difficult to accept the prayer (bail) of applicant," the special judge said in his order.
4. The court accepted arguments that the confession (of other accused) can be relied upon even if the MCOCA is dropped from the case.
5. On the motorcycle used in the blast (that was owned by Thakur), the court said: At this prima facie stage she can't avoid her connection with it being registered in her name and she being the owner of the same.
6. The court said that safe conclusion can be drawn on the basis of witnesses' statement that during the Bhopal meeting (held to plot the Malegaon blasts), Pragya was present and there was discussion about jihadi activities in Aurangabad and Malegaon.
7. The court observed that the participants in the meeting want to establish 'Hindu Rashtra' and their discussion shows that they want to establish government in exile. "Prima Facie there was a Bhopal meeting and she (Singh) was there," the court observed.
8. In her application, Pragya had contended that there was no evidence against her. Though the motorcycle used in the blast was owned by her, according to one of the witnesses, it was in the possession of Ramchandra Kalsangra, an absconding accused, she had said.
9. Some of the witnesses, whose statements were used to implicate her, later retracted and filed complaints of torture by the ATS, her plea said.
10. Seven people were killed in the blast at Malegaon, a predominantly Muslim town in north Maharashtra on September 29, 2008. Pragya was charged by the Maharashtra ATS in 2009 saying it was her motorcycle that was used to plant the bomb.