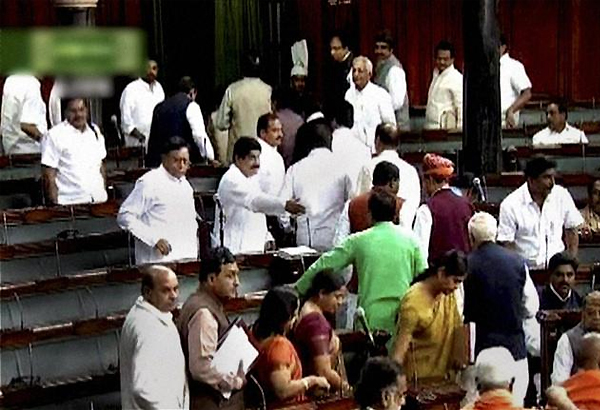 New Delhi, Dec 28: As the voting figures for the Constitutional Amendment Bill were shown on the electronic display board in Lok Sabha, the floor managers of the ruling party suddenly found to their dismay that nearly 15 Congress MPs and almost a dozen members of the UPA allies were not present in the House for the crucial voting.

Floor managers of the Congress, particularly Parliamentary Affairs Minister Pawan Kumar Bansal appeared red-faced, as party president Sonia Gandhi sat silently on the front bench.

The defeat of the Constitutional Amendment Bill was in fact a huge embarassment for the ruling party as it was Rahul Gandhi who had proposed on August 27 that constitutional status be given to the Lokpal.

The absence of 26 MPs from the ruling benches rankled in the mind of party managers.

Leader of the House Pranab Mukherjee kept up a brave face saying "we have the majority, but we don't have the two-thirds majority (required to pass a constitutional amendment bill)".

Congress members blamed the BJP and the opposition for conniving in denial of constitutional status to the Lokpal.

But, CPI-M leader Sitaram Yechury hit back saying, the UPA was trying to cover up its own failure.

"It seems certain sections in government were not happy with the proposal and they sabotaged it. Now they are trying to score propaganda points against the opposition", Yechury said.

BJP leader Yashwant Sinha blamed the government for "deliberately losing" the vote on Constitutional Amendment bill in order to pin the blame on the opposition.

The defeat of the Constitutional Amendment Bill means that on Wednesday, Rajya Sabha will take up only the Lokpal Bill and Whistleblowers Bill as passed by the Lok Sabha.

In the Rajya Sabha, it will be another mindbender's game if SP, BSP and RJD members chose to walk out leaving the Congress in the lurch as the ruling party does not have a simple majority in the Upper House.
Following are the names of MPs who were not present during voting on 116th Constitutional Amendment Bill in Lok Sabha:
 
M Rajamohan Reddy, Vikrambhai Aranjbhai Madan Ahir, Kishan B Patel, Kabir Suman(Trinamool), KRG Reddy , Harshvardhan Cong, Shahnawaz MI, A Raja, Suresh Kalmadi, Jose K Mani, Sanjay Bhoy, Hamidullah sayeed.