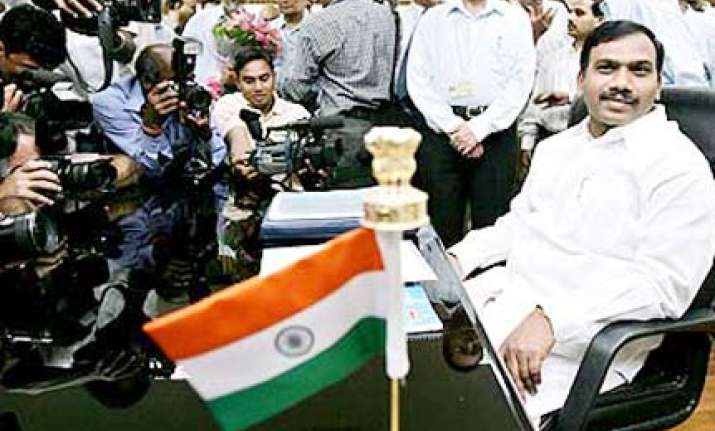 There's a new twist to the multi- crore 2G- spectrum scam. New evidence suggests Union telecommunications minister A. Raja may have lobbied with an influential power broker for his post in the United Progressive Alliance (UPA) cabinet, reports Mail Today.
Recorded conversations between Raja and corporate lobbyist Nira Radia, exclusively accessed by Headlines Today, indicate Raja was being rooted for the post by a few powerful telecom players.
The very discreet telephone conversations also reveal Radia was privy to a lot of ' inside' information and her links in the government extend beyond Raja.
The spectrum scam has rocked Parliament and the Opposition has been gunning for Raja, even as the Central Bureau of Investigation ( CBI) is probing the multi- crore scam.
The latest tapes are going to add fuel to the fire. The conversations, recorded by the incometax department, raise issues of grave impropriety on Raja's part.
These conversations were recorded over 300 days, starting from August 20, 2008.
Radia, one of the country's most influential power brokers, has among her clients the bigwigs of corporate India, including those with high stakes in the telecom sector.
The conversations accessed by Headlines Today were recorded around the time the UPA II government was being formed. The recordings make it clear that Raja badly wanted the telecom ministry.
The first conversation between Raja and Radia, recorded at 11: 05 am on May 24, 2009, suggest the lobbyist knew who was getting which portfolio.
Radia could be heard telling Raja that his name had been cleared for the telecom portfolio.
Interestingly, this conversation was recorded just four days before Raja was officially announced as the telecom minister.
The second conversation, between Radia and DMK patriarch Karunanidhi's daughter Kanimozhi, was recorded three days prior to the one with Raja.
During the talk — at 8: 41 pm on May 21 — where Kanimozhi has been referred to as Kani, the latter reveals the DMK's desperation for the telecom portfolio.
The tapes throw up interesting questions. How did Radia know about the Centre's portfolio allocations even before Raja himself was sure of it? Also, why was Raja lobbying for the coveted portfolio with Radia? In the days to come, the minister will have some tough questions to deal with.