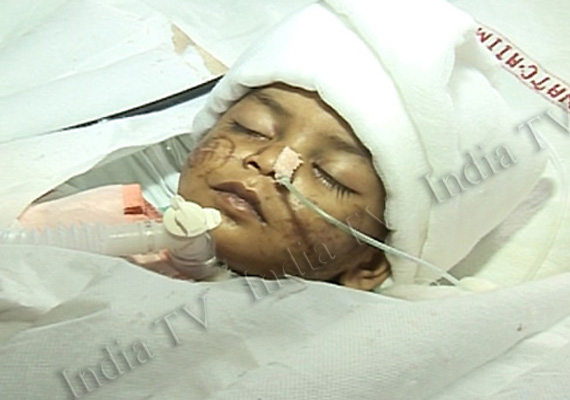 New Delhi, Jan 27: Even though the two-year-old battered baby (we've named it Falak) is on ventilator in the ICU of AIIMS Trauma Centre on Friday, she is now stable, say doctors, but investigating into her parentage has revealed a mind-boggling labyrinthine.

A maid called Munni used to work for a woman named Laxmi in west Delhi's Uttam Nagar.  The maid gave the girl to the woman Laxmi.  She, in turn, gave the girl to a youth named Manoj, who was her acquaintance.

While Manoj kept the baby with him, his friend Rajkumar saw the infant, and took her from Manoj.

Rajkumar, a married person, had kept a 15-year-old girl Vaishali Gupta with him separately. The couple used to frequently change their homes from Munirka, to Mahipalpur and Dwarka.




There is a case pending about Vaishali Gupta's abduction in south Delhi's Sangam Vihar police station dated June 2, 2011. It was because of this, Rajkumar, used to frequently change his residence.

Police officials say, the injuries on the baby's body appear to be 20 days old. It was Vaishali who had brought the infant to AIIMS Trauma Centre and vanished.

Vaishali is being interrogated by police, but her versions need to be corroborated further, and the real parents are yet to be named. Rajkumar is absconding.




PTI adds: The  two-year-old girl abandoned in a hospital with critical injuries by a teenager is struggling for her life today though doctors said her condition has "slightly improved" on a day when two women approached the hospital claiming the baby is their relative. 

Police is still clueless about the whereabouts of the parents of the battered baby admitted in AIIMS while a hot chase is on to locate a man who allegedly sexually abused the teenaged girl who got the baby admitted. 

The baby Falak was admitted to the hospital with severe bruises in her body, head injuries and broken arms on January 18. Her head was badly smashed, she had broken arms, bite marks all over her body and her cheeks branded with hot iron. 

The child is undergoing treatment at the neurosurgery ICU of AIIMS Trauma Centre and had suffered two cardiac arrests during the past few days.




"We see bad cases on a daily basis. But I have never seen this kind of a battered baby condition," said Dr Sumit Sinha.  Two women, meanwhile, approached the hospital claiming the child is related to them.

"I have directed both the women to police. Both claimed that the child is their relative," Deepak Agarwal, a neurosurgeon with AIIMS, said.  

However, police said nobody has approached them.  As the shocking case unravelled, Delhi Chief Minister Sheila Dikshit offered what ever possible help to the girl while the National Commission for Protection of Child Rights (NCPCR) demanded that the police probe how the minor girl, who admitted a two-year-old battered baby girl to AIIMS,  landed up in the house of a man with whom she was living.  

"Let the report come out. Delhi Government will extend all possible support. We will do whatever is required," Dikshit said.

She has slightly improved but remains in a critical condition, Dr Deepak Agarwal, a neurosurgeon with AIIMS, said.

"This baby has been put out of ventilator, is moving her limbs and her physical condition is better than yesterday. Her neurological condition has improved because she has shown arms movement today.

"She continues to remain unconscious but she does not need ventilatory support. Her chest condition is better today," Agarwal said adding doctors have conducted a tracheostomy and she is being fed through a pipe that goes via the nose.

Doctors said that she was brought to the hospital by the teenaged girl who claimed to be her mother and had cited a fall from the bed as the reason for the child's pathetic state.

Agarwal said, "Since she has got bite marks all over her body we asked our gynaecologist to carry out test for sexual abuse and they found no evidence of it.

"Her chances of survival still remains fifty-fifty. If she did she will be dependent for the rest of her life because her brain has suffered permanent damage," he said.  

Police sources said it appeared that baby girl was kidnapped and was handed over at least five times before the baby reached the teenager.

A case of kidnapping has already been registered in the case while investigators have been fanned across north India to locate the parents of the abandoned girl.  

"The teenager has told us many things. She had told us who she is and who her parents are. We are searching for them on the basis of the girl's statement," Ajay Choudhury, Additional Commissioner (South-East), said.  

The teenaged girl had run away from her house last year claiming that she could not stand the physical abuse at home by her father. She had eloped allegedly with a 22-year-old married man and a case of kidnapping was registered.

The girl told police that Falak got bruises on her body when she tried to prevent her from running around. The fractures were after the child fell in the bathroom, the official said.

NCPCR Chairperson Shanta Sinha asked the police to probe how the teenaged girl fled the house and landed up in the house of a man with whom she was living.  Sinha said it was horrifying to see the way "this little child has been treated and she is lying in comatose in the trauma centre."

"Police is behaving in a little bit strange way. I think, since a minor has brought the baby to hospital it almost looks like a double crime. This is because the girl is living with somebody who is much older than her," she said.  

Sinha also sought to know how the minor landed in the house of the man and where did the child come from.  

"Is he some kind of a trafficker or what kind of work is he doing? Why police has not registered a case against the man with whom the girl is living. I think this is very important to find out," she said.

The trauma centre should come up with the medical report whether she has been sexually abused, Sinha said.