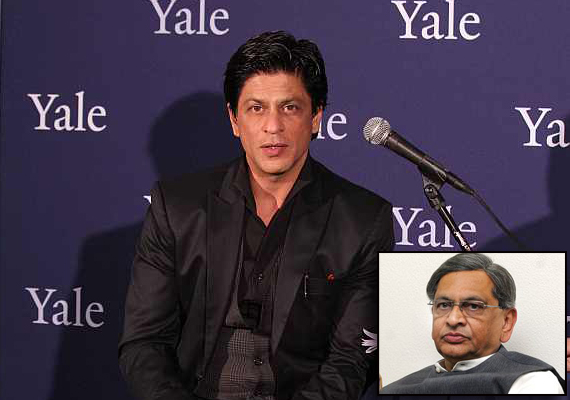 New Delhi, Apr 13: In a strong reaction to detention of Bollywood star Shahrukh Khan at a New York airport, India today summoned a top American diplomat after External Affairs Minister S M Krishna said "detention and apology" have become a habit with the US, which cannot continue.
Asserting that "mechanical apology" from the US was not adequate, New Delhi also asked its Ambassador in Washington Nirupama Rao to take up the issue with the highest authorities.

According to the sources, the US Deputy Chief of Mission Donald Lu was summoned by Joint Secretary (Americas) Javed Ashraf and was conveyed India's "concern" over the issue.

On his way to address students at Yale University, Shahrukh was detained by immigration officials for nearly two hours after arriving from India in a private plane at White Plains Airport, about 53 kilometres from Manhattan, and was given immigration clearance after intervention by Consulate General of India (CGI).

Immediately after the intervention by CGI, the US Customs and Border Protection authorities expressed "profound" apology in a letter to them, official sources said.

Noting that it has become a habit of "detention and apology" with the US, Krishna said this cannot continue, sources said. Krishna is now in Moscow to attend a trilateral ministerial meeting.

"Repeated problem for the same person followed by clearance on account of Consulate intervention and mechanical apology is not adequate," Ministry of External Affairs sources said.

Meanwhile, the US Embassy here apologised to Shahrukh for any inconvenience when he was detained for over two hours at an American airport and said it would put in place systems that can help address such circumstances.

US Embassy spokesperson Peter Vrooman said many Americans are great fans of Indian movies and respect the work of "great actor" Shahrukh Khan.

According to the sources, the letter by the immigration department said SRK's name was "flagged" in the system and airport people needed approval of "senior" authorities to clear him.

"More than an apology will have to take place," Minister of State for External Affairs Preneet Kaur said.

Minister of State for Parliamentary Affairs Rajiv Shukla too deplored the detention of Shahrukh saying what has happened is "not appropriate".