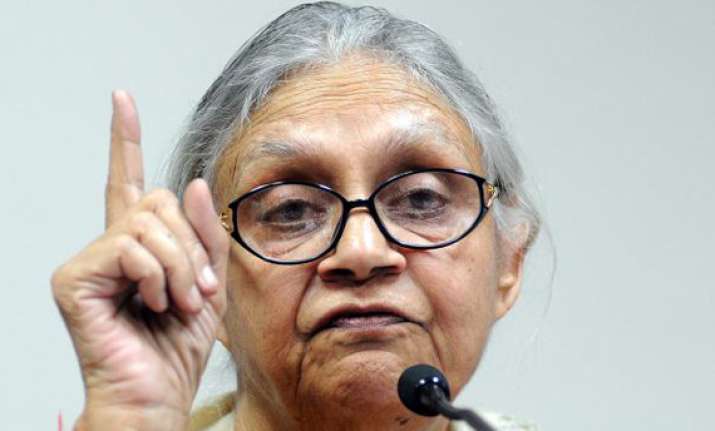 New Delhi, Apr 3:
Rejecting allegations of graft, Chief Minister Sheila Dikshit today took a pot shot at BJP for fielding it president Nitin Gadkari in the campaign for municipal polls and claimed that the party was raising "national" issues to hide it "failures".
"He (Gadkari) is raising national issues for municipal polls. Why the party is not talking about its performance in MCD in the last five years," Dikshit said when asked about Gadkari releasing a dossier listing alleged scams involving Delhi Government.
Taking a dig at Gadkari for showing keen interest in municipal polls, Dikshit said, "It is very strange that he is here for municipal polls. He is a national leader".
"They have totally failed to deliver basic services to the citizens. They have nothing to talk about their performance. That is why they are raising national issues," she said and noted that civic polls should be fought on issues relating to the civic agencies.
Besides its chief J P Agarwal, the Delhi Congress also fielded two ministers—Arvinder Singh Lovely and Haroon Yusuf—to attack the BJP, which currently rules the Municipal Corporation of Delhi.
While Agarwal hit out at the BJP for raising house tax, toll tax and parking charges in the past five years thereby "burdening" people, Lovely claimed that the Delhi Transport Corporation had to withdraw its low-floor buses from roads laid by the MCD as they were bad.
"The elections are to elect councillors for the MCD. It is MCD elections. Why is BJP's campaign focused on the Centre and the Delhi Governments? Why can't they talk about local issues?" Lovely asked at a press conference.
He also alleged that the BJP had failed in all counts while governing the MCD since 2007 and wondered whether even MCD employees go to hospitals run by it for treatment.
Elections to newly-carved three municipalities are scheduled on April 15 and the high-voltage campaign in the run up to it have pitted the two principal players against each other on a host of issues.
Earlier in the day Gadkari, after releasing the dossier "Dilli mein Ghotalebajon ki Sarkar" (the government of scamsters in Delhi)", launched a blistering attack on Delhi government accusing it of involvement in large scale corruption and appealed to people to vote for BJP in the civic polls to be held on April 15.
Asked about allegations of corruption in CWG projects, Dikshit said Delhi Government has already submitted its replies to Shunglu Committee report as well as CAG findings.
"The Central government has not reverted back to us," she said, rejecting Gadkari's allegations of graft in CWG projects.
On his criticism for not taking action against PWD Minister Raj Kumar Chauhan following recommendation by the Lokayukta, Dikshit said President Pratibha Patil had taken a decision on the issue and everybody should respect it.
The President last year had rejected the city Lokayukta's recommendation to sack Chauhan for his alleged involvement in protecting a leading resort in a tax evasion case. Exuding confidence of Congress' victory in the civic body polls, Dikshit said the MCD run by BJP had failed to fulfill its basic duty of providing basic civic amenities to the citizens.