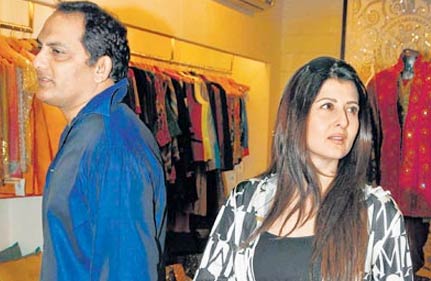 New Delhi: Badminton player Jwala Gutta, who is said to be the new woman in the former cricketer's life, took offense to rumours that Azhar has gifted her a BMW, reports Mid Day.
"I don't need an Azhar to give me a luxury car," she told this correspondent.
After the news about former cricketer- turned- MP Mohammed Azharuddin's intentions to divorce his second wife Sangeeta Bijlani reported, social circles in Mumbai and Delhi reacted to the news with shock, those in the know say the marriage has been on the rocks for some time now.
Says socialite Dolly Thakore, " These things happen all the time. There is nothing sensational about this. It is not as if she ( Bijlani) is the first. She was the one who broke his earlier marriage so one can hardly take a moral stand." " When I heard about it, it came as a surprise. I hope it is just a rumour," says actor Ashiesh Roy.
Singer Abhijeet is not surprised by the turn of events. " This should have happened earlier and not now when both of them have pretty much nothing to do. These things happen when two celebs are attracted to each other. Later the attraction fades," he says. Pullela Gopichand, at whose academy Jwala practices, appeared to be in distress. " I still want to be her coach. I hope this ( controversy) does not affect her performance," he said.
Meanwhile, Congress spokesperson Manish Tiwari says he doesn't want to comment on the MP's personal life, " We do not comment on people's personal matters."
Former cricketer- turnedpolitician Chetan Chouhan said, " I don't know anything and I have no interest in this." Says socialite Nisha Jamwal, " In the glam world to which we belong the situation is even worse and I see marriages crumble in front of my eyes. So I am not surprised." Azhar however, denied the affair.
"All these are rumors," he said. Azharuddin, who has reportedly been seeing Jwala Gutta, plans to divorce Sangeeta Bijlani soon.