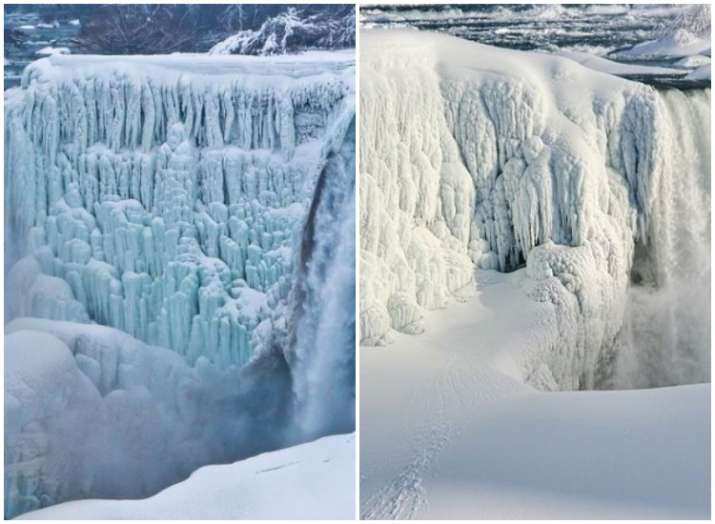 Niagara Falls is a fascinating view for many tourists -some of the people ticked off the destination in their list while others yet to visit there. For the latter one, we have an interesting piece of information that is  -it is the most appropriate time to experience the picturesque Niagara Falla as the waterfall freezes. The mesmerizing sight of the giant frozen water body has left many tourists stunned, who have compared them to the ice castle from the Disney movie Frozen.
As per CNN reports, Emma Grafham who is just a visitor stated: "There was even this set of stairs that were placed just outside the look-on spot and they had so much ice on them, it looked like Elsa had just cast her arm out and summoned up some stairs as she does in the movie."
Talk about walking in a winter wonderland. This storm should have been named Elsa, which left everything in #NiagaraFalls frozen. pic.twitter.com/Fnjotb7SmK

— becky b (@Beckyab83) January 22, 2019
There are also people who are calling the new frozen Falls as the backdrop of Narnia film.
It looks like Narnia #NiagaraFalls #Narnia pic.twitter.com/ViohXOWLt2

— Olga Michelle (@OlgaMishina80) January 23, 2019
Speaking of Niagara Falls, it is the collective name for three waterfalls that straddle the international border between the Canadian province of Ontario and the US state of New York. Being a very popular destination for tourists, people are in love with the views of Niagara Falls as a few parts of rushing waters has been frozen.
The shots of the solid frozen Niagara Falls are incredible while many Internet users are calling it 'Breathtaking'. Check out some of the most stunning pictures and videos of the frozen Niagara Falls:
BREATHTAKING: Wanna know just how cold it is in the northeastern US right now? Parts of #NiagaraFalls are frozen solid!!! These shots are incredible #LiveDesk pic.twitter.com/N6TYqnz5U5

— Dan Snyder (@DanSnyderFOX25) January 22, 2019
I honestly cannot get over how breathtaking this place is. Sorry for the waterfall spam, but I am having the best time ever. We did journey behind the falls which was class. It's so quiet too - and winter so, so suits #NiagaraFalls!! pic.twitter.com/cLrtjb66m1

— Gerard | G&G Journeys 🌍 (@ggjourneys) January 23, 2019
Today Parts of Niagara Falls have frozen due to the extremely cold temperatures in Canada, turning the world famous tourist spot into a winter frozen Landscape#NiagaraFalls #Canada pic.twitter.com/oIbEyhvay3

— Photo Geo 🌎 (@PhotoTimeGeo) January 24, 2019
#NiagaraFalls has frozen over and it's beautiful.

Extreme cold weather—the kind that can literally freeze off parts of your face—is no fun. There's no getting around it.

There are, however, some very cool things that happen only in frigid weather like this for instance. pic.twitter.com/hcTwsXLKAh

— Michael Klassen (@1111Realty) January 22, 2019
For all the latest Lifestyle updates, check out our Facebook page!