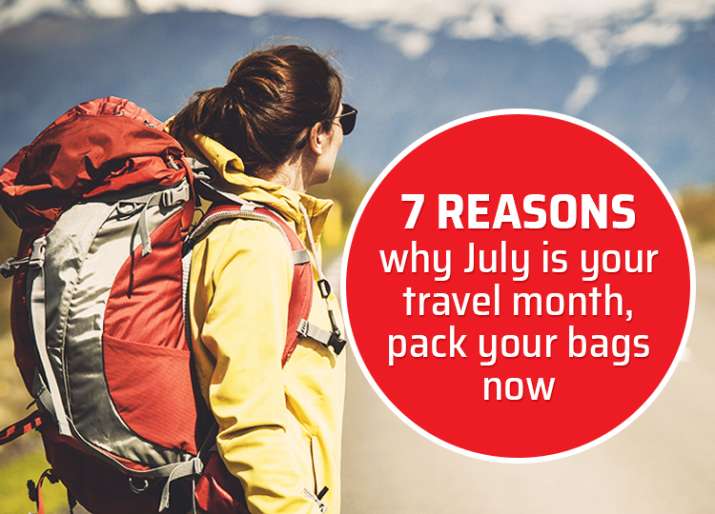 Traveling, going on excursions or taking short trips is something we all do whenever an opportunity strikes. Otherwise planning a trip on your own brings a lot of contradictory thoughts like -Is it the right time to travel, how the weather is going to be, what place I should be choosing -hills or beaches and whatnot.
Well, here's the answer, July should definitely be declared as the travel month in the industry of travel. This is because of the positivity and good vibes of the month along with seven amazing reasons to travel.
Listed reasons will surely convince you to pack your bags right away for your next vacay!
1. Hustle-free holidays: July is the month when kids pack their bags and go to school. This makes every destination a hustle-free or children-free destination. You can now beat the family-crowd and relax in the calm atmosphere of your travel just the way you planned it.
2. Pleasing weather: The days are undoubtedly pleasing in second-half of the year. Whether you plan to travel within your country or across global borders, July is the month when it comes to pleasant weather traveling for clicking perfect pictures too!
3. Time for beaches: Now, when you plan to travel, you surely look for a destination that can boast your news feed on social media accounts. Beaches is the answer; plan a beach destination for July month and kill two birds with one stone.
4. Festivals across countries: There are innumerable festivals that takes place in the month of July be it multi-cultural festivals, music concerts, or celebrations. So, gear up for some fun-filled activities!
5. Launches & inaugurations: Many hotels and resorts are planned to launch in the beginning of second-half of the year. Exploration of new places can be your another reason which will also keep you updated with the travel industry.
6. Perfect length of days: Days are neither short nor very long in the month of July. You can enjoy and spend plentiful of time wherever you go.
7. Enhancing creativity: Traveling enhances creativity in an individual. Though this isn't a July-month driven reason but one reason that can take us on a trip anytime!
So, these are the seven reasons to travel in the seventh month of the year for a mesmerizing experience.