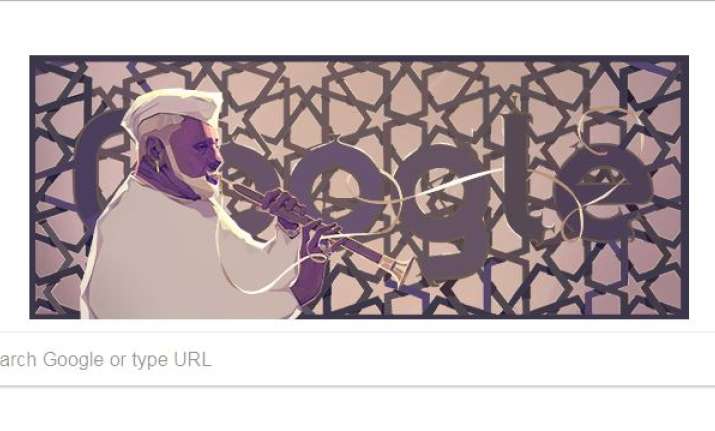 Search engine giant Google dedicated a Doodle to Shehnai maestro Ustad Bismillah Khan on account of his 102nd birth anniversary. He was India's most beloved musician. The doodle, designed by Chennai-based illustrator Vijay Krish, celebrates Khan against the backdrop of a geometric style pattern with his instrument aloft, sending a festive tune out into the world.
Born in 1916, in a family of court musicians in Bihar, Khan was so much in love with his music that he often referred to his shehnai as his wife. Famous for his common man behaviour and simplicity, he was a recipient of all four highest civilian award, including the Bharat Ratna, awarded to only a few musicians.
He not only performed during the first Independence Day celebration in 1947, but his music was also part of the first Republic Day celebration in 1950, which continues to this day.
"Though he started playing in public at the age of 14, Khan's performance at the All India Music Conference in Kolkata in 1937 became a defining moment in his career.
"Three decades later, when he performed at the Edinburgh Music Festival, the shehnai acquired a global audience, and in the minds of millions, became synonymous with its player," the doodle page said.
Ustad Bismillah Khan was so much in love with his Shehani that he often referred to it as his 'love' or even 'begum'. His famous quote still reverberates in the world, saying, "Even if the world ends, the music will still survive... music has no caste."
With a dream to unify the world with music, Khan passed away in 2006 in Varanasi where he spent his life.