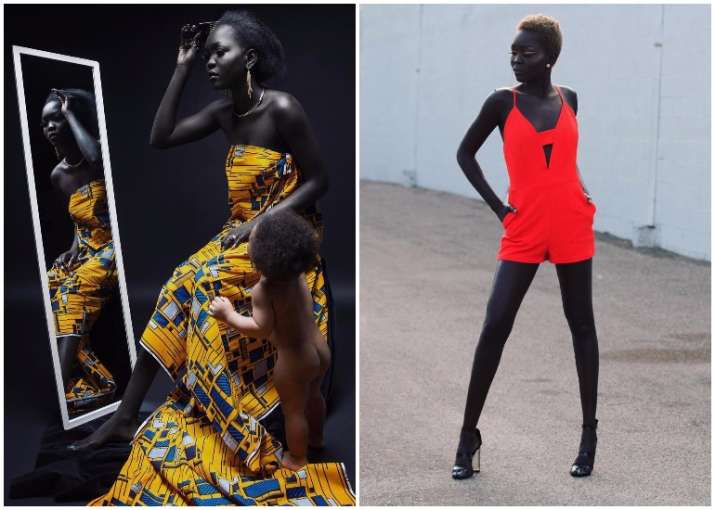 This Sudanese fashion model Nyakim Gatwech created waves on social media with her dark as night skin. She appeared on a number of International magazines and even took Instagram by storm with her peculiarly dark skin colour. Her pictures instigated a breakthrough on social media, deflating the stereotypes about a woman's skin colour. But racism runs too deep in our blood, that no matter how hard we try, it often shows up. Naykim was asked by a cab driver once if she would change her skin colour for money. She replied in a 'No', proudly. 
The 24-year model lives in Minneapolis, United States and she's popular on internet for the pride she takes in her skin colour and African heritage. But her skin colour wasn't a celebrated phenomenon always. It developed gradually among people. And during that process, the beautiful model had to gulp the racist remarks thrown at her by people. She was publicly shamed for her extra dark skin. But she didn't let hatred besiege her dreams. 
She shared an incident on Instagram where an Uber driver asked her if she would consider bleaching her skin. Here's what she wrote about it. 
Also Read: Teenage girl goes to prom with black guy. What her dad did next will shock you!
"I was (asked by) my Uber driver the other day…'Don't take this offensive but if you were given 10 thousand dollars would you bleach your skin for that amount?' I couldn't even respond I started laughing so hard. Then he said so that a no and I was like hell to the f****** yeah that a no, why on earth would I ever bleach this beautiful melanin, God bless me with"
People kept on showering the racist comments on the model, thinking that would be funny. She how she took every racist remark thrown upon her. 
Also Read: From commenting on 'knee gaps' to sexist remarks, 5 times textbooks taught bizarre things
Even in the school, she was bullied for her dark complexion. She was told things like 'You need a shower, you're black as hell'. At a point of life, she considered bleaching to get rid of the colour that brought her shame. But she dropped the idea, and she's thankful how it let her fall in love with her skin colour. Nyakim still receives hateful messages but she chooses to ignore them and never let them affect her self-confidence. 
But thanks to the love she's been bestowed upon her by her fans, that now we know her as the 'Queen of Dark'. 
For more Lifestlye news click here