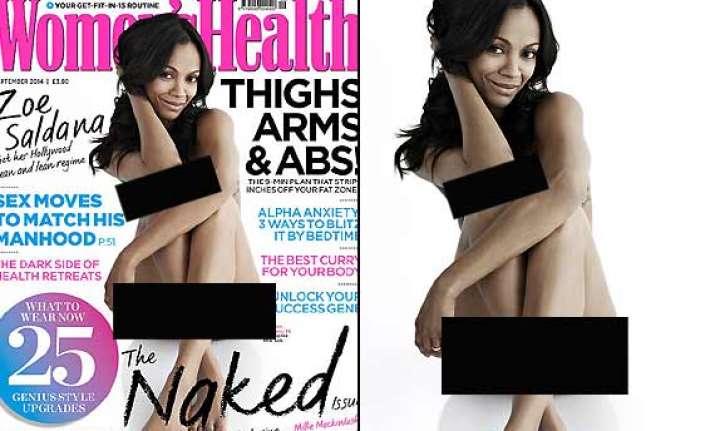 Los Angeles: Actress Zoe Saldana flaunted her "less toned" body for a magazine cover and said it is better to be happy than worrying about a perfect body.
"You'll never be completely happy. So, at the end of the day, it's like, 'F*** it! Just be happy, regardless," contactmusic.com quoted her as saying.
Photos taken from Women's Health UK:
The pregnant "Avatar" star has bared all for the September cover of fitness and lifestyle magazine Women's Health, but explains she doesn't look her best because she hasn't been exercising as much as she used to.
The 36-year-old, who posed for the photo shoot weeks before going public with her baby news, said: "This past year I've had to start letting go. My body dictated it as if saying, 'Slow the f*** down!' I'm less toned."
"I do look in the mirror and see things I don't want... (but) I do feel beautiful in a way that even when I was working out a whole lot, I sometimes didn't, because there have been times that I was really slender and I didn't like that I sometimes looked a little too muscular and flat-chested," the actress added.