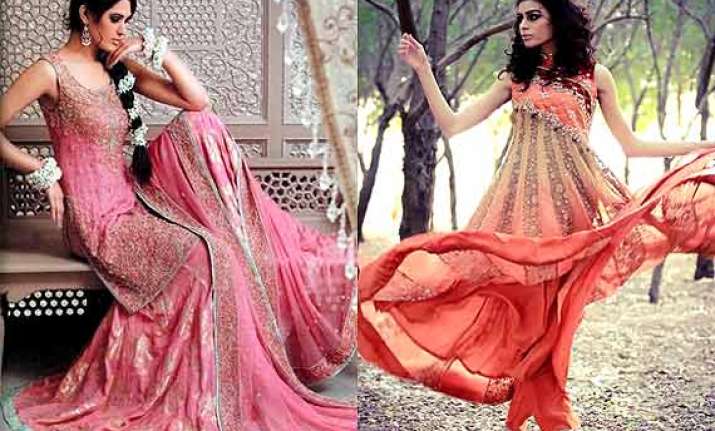 New Delhi:  Finally after a month long wait the festival of Eid is here.
Eid is the festival where you can have amazing food, vibrant clothes and most importantly can spend time with our family and friends.  Apart from these all the most exciting part of Eid is new clothes.
As Eid is the most auspicious occasion of the year for Muslims, the clothes and jewellery which you select for Eid must go with the celebratory mood too, don't you think?
So leave all the subtle trends behind and make a stylish impression with new stylish clothes.
Eid is that time of the year where you can wear whatever clothes you wish to and elegance will follow. When it comes to Eid the most special dress that comes in mind is sharara but in the recent years, the traditional fashion has merged with the global fashion.
So now the Muslim girls don't have a single option to wear on the day of festivity but you can add a twist to it.
Sharara is the most traditional attire to wear this day; there are many women who love to flaunt their beauty in traditionally stitched shararas.
 It has strong roots across all cultures and remains an integral part of the Indian Muslim lifestyle inspired by the Mughal Era.
Now-a-days this vintage yet sophisticated dress is infused with a well-bred touch and modernity is added to it which recreates the aura of the Mughal period with contemporary style.
 If you don't want to wear the typical Sharara then you can team it up with embroidered jackets and simple piece of jewellery. It is very adaptable and can help you glam up instantly.
Since there is evolutionary change in fashion if you don't want to wear the typical sharara, you can go for maxi skirt and floor length top for the occasion.
 If you want traditional clothing but not sharara you can go for shalwar kameez, kaftans, jalabiyya, or an abayah. Depending on the hijab colour you can choose various accessories to look glamorous on the day of Eid.
The festivity to Eid continues till late in the night. So, for night celebrations you can go for a bit bold dress in terms of colour and style. A bright coloured sharara with chunky jewellery can be good option.
So, whatever the dress you choose for Eid, it should compliment your personality.