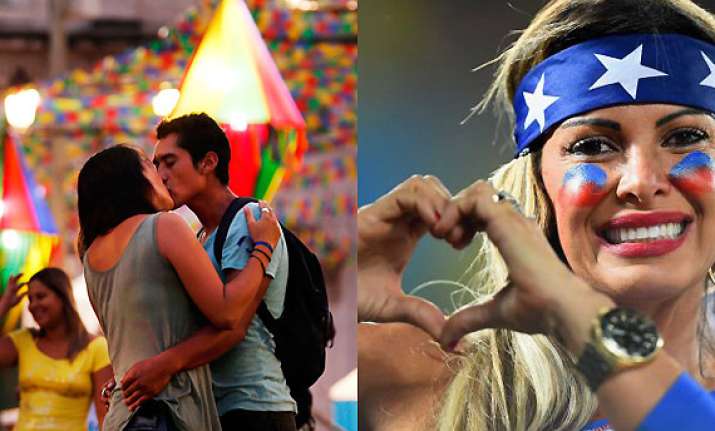 SAO PAULO: Will Brazilians choose love, or love of the game? With the World Cup opening on the same date Brazil traditionally celebrates its version of Valentine's Day, merchants are helping lovers and spouses figure out how to embrace both.
Operators of gift stores, love motels and restaurants are encouraging Brazilians to move their romantic plans up by a day, so Thursday's tournament kick off won't spoil anyone's love life. 
The Brazilian motels association said Tuesday it's partnered with beer company Brahma to promote mottos such as "First I will kiss you, then my jersey." 
Celebrated every June 12, Brazil's Day of the Lovers is a major shopping day, along with Christmas and Mother's Day. For love motels and restaurants, it's one of the biggest days of the year. 
Antonio Carlos Morilha, director of the Brazilian Association of Motels, said he persuaded 70 motels, mostly in Sao Paulo, to offer discounts and special packages of food, drinks and chocolates to entice lovers to come in ahead of the World Cup. 
"We were running the risk of not selling as much as other years," he said. "We wanted to offer incentives so they know it's better to do it a day earlier." 
Restaurants are unveiling special menus on Wednesday. Chocolate shops, jewelry stores, beauty salons and clothing boutiques alike are offering early-bird discounts.