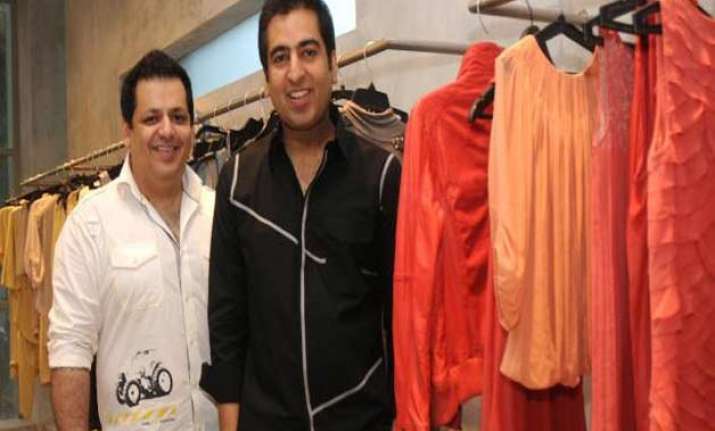 New Delhi: The Indian fashion industry is separated into two major events -- Mumbai's Lakme Fashion Week and Delhi's Amazon India Fashion Week. But ace designers Rohit Gandhi and Rahul Khanna feel it's time to get united and represent the industry as one fashion body.
The designers also feel that young and aspiring faces need to be a little more grounded and keep their humanity intact.
"I think it is time to get united. We had Lakme as the first sponsor and then Lakme started their own event. Then Wills Lifestyle became a part of (another event), but it could not carry on. But I think it should be one fashion forum as I feel separate events are diluting the purpose in a negative manner," Gandhi told IANS here.
He was speaking at a preview of their collection at the ongoing Amazon India Fashion Week (AIFW) here on Thursday.
Their collection titled 'An Early Frost' paints a picture of an arctic region. The use of metallic for the monochromatic collection stood out on the ensembles, which were dominated with a lot of layering and exaggerated sleeves.
Capes, high-waisted skirts, embossed neoprene dresses, lazercut jackets are the key signatures of this collection.
Gandhi also noted that aspiring designers need to realise that the common conception that fashion industry is all about partying and shows, needs to change.
"Designers have to realise that it is not easy. We work really hard and they (youngsters) think fashion is such an easy thing, but we work like crazy. It is not something for enjoyment, but is very serious. They should take it more seriously. And aspiring designers should not lose humanity," Gandhi said.
If we talk about fabrics and textures, they were not at all downgraded as the designer experimented with prints and textures inspired from fur. Linear patterns in monotones, the scaling and handcrafted applique inspired from the intriguing animal skins dominated the collection.
The designers, who were supposed to present their collection to glitterati with a show, opted to just present a preview over a ramp show due to some "personal loss".
"We had already done the collection. We just had to change the colour to black because it is the mood. We didn't want to show colour at this time and it was difficult to do a full collection so we just had 22 women and six men. In fact, this collection took our grief away because we were busy making garments," Khanna said.
The collection embodies colours of a cold forest with ash grey, dark oak and whitish mist. But Khanna says that for this collection, they chose black.
"Black came naturally to us. We showcased the collection in Paris and New York, which had hints of colours. But for this preview, we brought the colours down. We tried to make it a monochromatic collection," he said.
The designers will be back for the grand finale in a colourful way. They will showcase two ensembles for the 'Crafts of India' showing at the grand finale. And the duo says the collection will not be sombre, but a presentation with colours red, orange and pink -- in tune with the theme.
"It will be an extension of our creation, but with full on colour and bright. We will try to cheer up on that day," Khanna said.