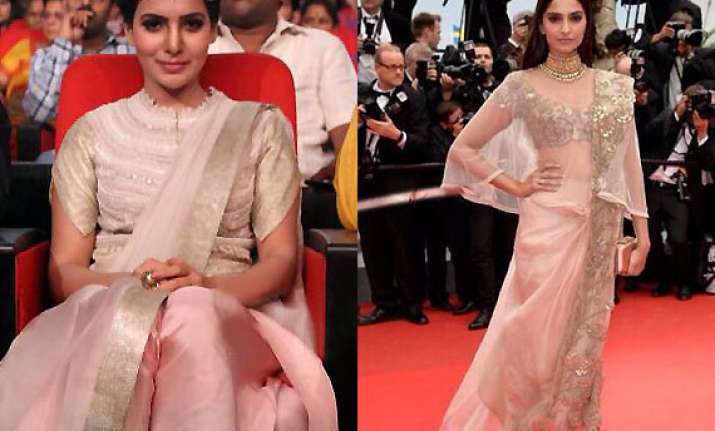 New Delhi: Samantha Prabhu one of South Industry's stunning divas is trying to step forward as analogy to Bollywood's very own stylish actress Sonam Kapoor.
Sonam Kapoor, Bollywood's very own answer to Hollywood's Carrie Bradshaw a.k.a Sarah Jessica Parker seems to eat, drink and live fashion. Each time she steps out one can never point out even a slightest error in her style.
Sonam has gone up to receive critical acclaim by fashion police for marking India's traditional style with élan on International red carpet events like Cannes and trying to reach that benchmark might not be so easy for Samnatha Prabhu.
The stupefying Tamilian beauty with her charismatic persona garnered immense fan following and with such a fan base Samantha is soaring high with success.
Though she may have fans drooling over her competitive edge over her contemporaries, but Samantha has gained even more criticism leading to her fashionable choices on various events.
On many occasions be it red carpet events, award shows or even parties within the Industry, we noticed her flaunting her superbly fab figure in exquisitely designed outfits.
Samantha unlike her contemporaries is trying to setup her image as Tollywood's most stylish babe, but what she fails to understand is the fact that wearing a designer's piece alone won't put you up as a package; you need to have sense of carrying an attire with style and attitude.
The actress on various occasions has sported some of her disastrous choices in wardrobe. She has made a point to walk in and don only elegantly designed outfits by hot shot designers but each time she picked up either something wrong or failed to match up with the style.
Here's a look at some of her failed attempts so far...