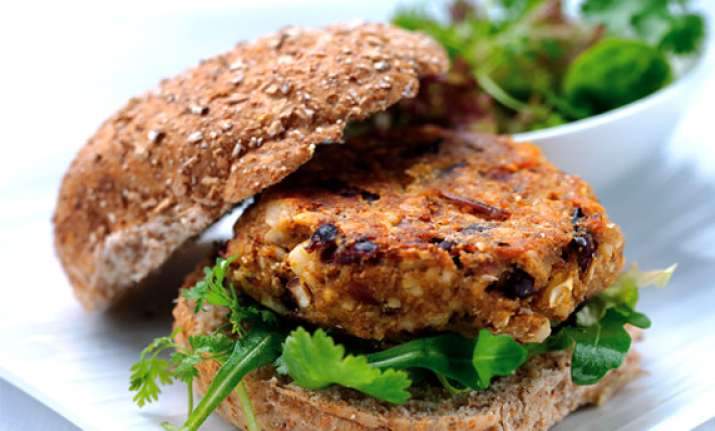 New Delhi: Spicy food plays a very important role in a typical Indian's life.
Whether they are on a holiday to some exotic location or on an official trip, they will find a Indian restaurant to satisfy their taste buds.
Indians still prefer Indian cooking styles with a focus on regional food, even while eating out. We Indians are habituated to give every international food an Indian twist.
That's why you can see hamburgers with aloo tikki, Chinese cooked with Indian spices and served with Indian chutney and many more.
While there will always be takers for dal makhni and butter chicken, there is now a community of international travelers who enjoy International cuisines.
 Indians, who traditionally always ate at home, are now increasingly dining out, but with a strong preference for Indian flavours they are generally disappointed.
So they give international cuisines an Indian tadka and rajma burger is not an exception in that. You can enjoy the exotic taste of American burger and Indian rajma in one bite.
Isn't it mouth watering? Yes, it is. So, go through the method and try this quirky recipe at our home.
 Preparation time:
20 mins
Ingredients
250 gms Boiled Kidney Beans (Rajma)- 250gms (mashed)
half cup onion, finely diced
1 clove garlic, minced
2 Tbs. bread crumbs
2 Tbs. chopped fresh parsley
1 Tbsp. Ketchup
1/2 tsp. Chili Powder
1/2tsp. Curry Powder
1/4 tsp. Ground Cumin Seed
1/4tsp. Salt
1/4 tsp. Black Pepper Powder
4 slice Cheese
4 Burger buns
Lettuce leaves, tomato slices, cucumber slices, onion slices and butter as required
Method
1. In a large bowl combine the mashed kidney beans, onion, garlic, bread crumb, parsley, ketchup, chili powder, curry powder, cumin, salt, and pepper. Mix well and chill for 15 minutes.
2. Form into patties and fry in a small amount of oil, or in a nonstick pan with oil, over medium heat.
3. Toast a burger bun, spread butter top with lettuce, tomato, cucumber, onion, patty and cheese.