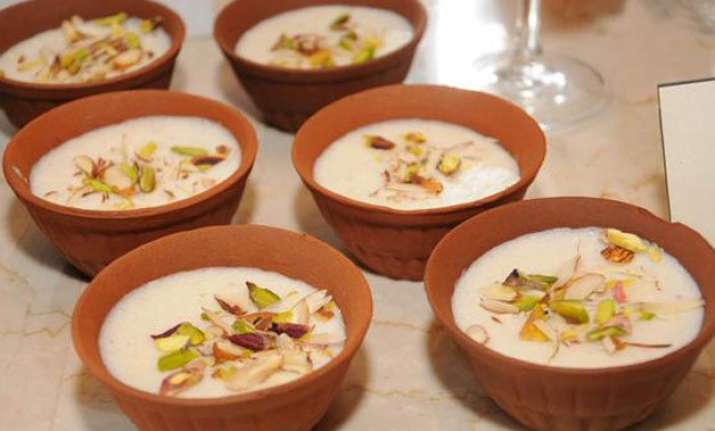 The holy month of Ramadan is going on and while fasting during this month is regarded as one of the five pillars of Islam. But feasting is also part of this special month, known as 'iftar'- it's the time of the day, when people break their day long fast.
Known for the rich delicacies, iftaar parties can actually leave you stuffed with food but trust us you won't mind eating. After a day long fast, one would love to try different dishes. So, rather than eating the same Indo-Chinese dishes, pakoras and sharbat- try something different.
So to serve your sweet tooth this Ramdan, we bring you the quick recipe of 'Kesar Pista Phirni' that can be made in a jiffy:
Ingredients:
Rice, milk, saffron, pistachios, cashew nuts, sugar, cardamom powder
Method:
1. Take ½ cup of rice and soak it in water for half an hour before removing the water. Grind the soaked rice to make thick paste.
2. Take 1 litre full cream milk and boil it. Once the milk comes to boil add the rice paste in it. Cook the mixture till it comes to boil again. Make sure your stir it continuously while it is being boiled.
3. Now slow down the flame and cook till the rice gets cooked and the 'phirni' becomes thick. Stir the 'phirni' after ever 2 minutes.
4. Take 1/3 cup of sugar, 10-12 cashew nuts cut into small pieces and some saffron (kesar) in some milk and mix them well. Now add this nut and milk mixture in 'phirni' and cook it again till the sugar gets dissolved completely.
5. Add some cardamom (elaichi) powder once you turn off the gas and mix it.
6. Pour the 'phirni' in a bowl and keep it in the fridge to cool. Served it chilled and garnish it with chopped pistachios before serving.