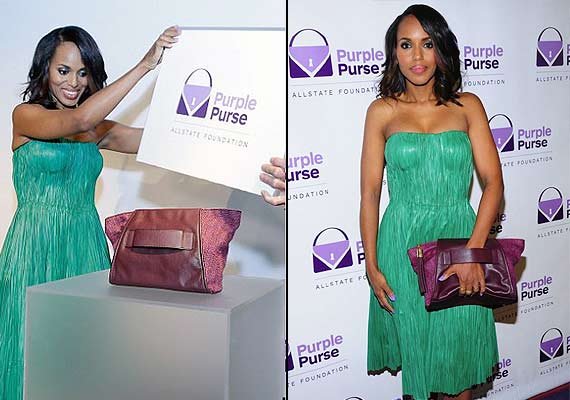 Los Angeles:  "Scandal" actress Kerry Washington has used her sense of style for a cause.
She has designed a limited-edition purse for the benefit of victims of domestic and financial abuse.
She has joined hands with the Allstate Foundation for the initiative, reports people.com.
"I actually fell into this work as an artist. Back in 2000, I had just finished filming 'Save the Last Dance', and my friend and co-star Julia Stiles invited me to watch her in Eve Ensler's play 'The Vagina Monologues'.
"I was so moved by all these stories of women's identity, value and worth. After that I became part of the movement to end violence against women," she said.
She was up for supporting the cause immediately when the Allstate Foundation approached her with the opportunity to design for its Purple Purse program.
"I thought, 'This is an issue I care about, and I also care about a good handbag, so I'm in!'"
"Purple is the signature colour for domestic violence awareness, and a purse is where a woman's financial well-being lives. This bag represents taking back your purse strings in the face of abuse," she said.