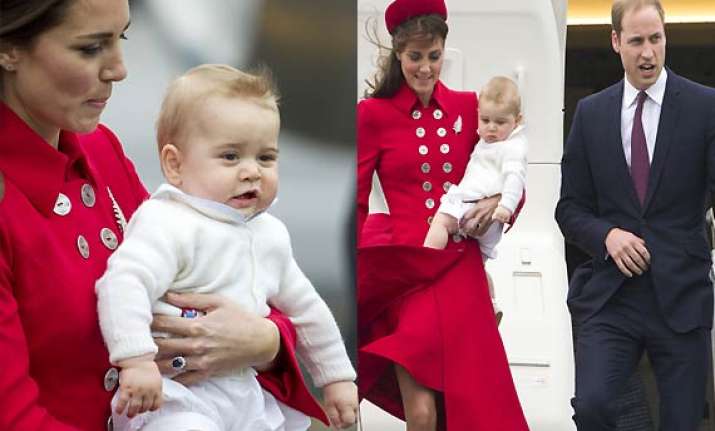 The 3-week trip to Australia and New Zealand for royal couple Duke of Cambridge Prince William & Duchess Kate Middleton has become all the more exciting as they are accompanied by their little bundle of joy baby George.
And what's more exciting to see is that baby George is snatching away all the attention from his parents. This time the world is not in awe of Kate Middleton's royal collection put on display instead baby George's wardrobe is something people are more looking up to.
Duchess Kate Middleton seemed to have packed a wealthy collection of baby suits for son George.
Kate looked stunning in a red coat, which she gracefully paired up with a matching pillbox hat. The highlight of her attire was the diamond and platinum silver fern brooch, which Kate had received from Queen Elizabeth as a loan for their Australia-NZ tour.
Duke of Cambridge was handsomely dressed in royal blue suit walking along wife Kate carrying their son George. Baby George stole the show as he was neatly dressed in white shirt and matching soft shorts beneath a cream cardigan. George who has recently started crawling was dressed in cute li'l white leather shoes and socks.
William and Kate chatted to a group of children before being escorted into Government House by New Zealand Governor-General Sir Jerry Mateparae as they made a short stop where they were welcomed by traditional haka and a brass band played the two national anthems of New Zealand, 'God Save the Queen' and 'God Defend New Zealand'.
Prince William and his family will spend 10 days in New Zealand before flying to Australia on April 16.

Check out pics of their welcome ceremony...