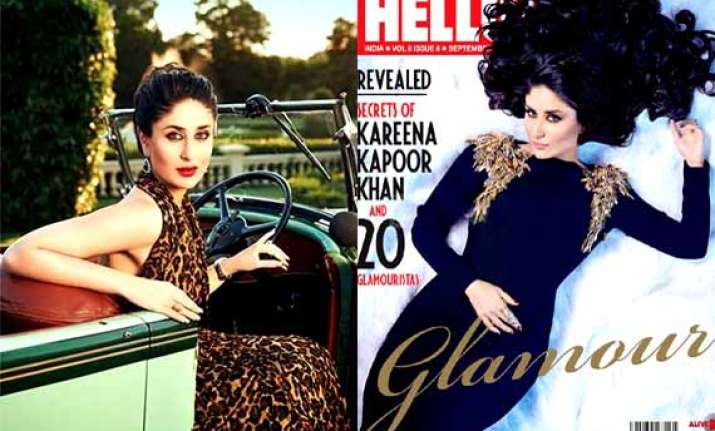 New Delhi: Kareena Kapoor is the latest cover girl of Hello! The diva has made it to the cover shoot with her all oomph and style.

 The lady, who was last seen in the recently released 'Singham Returns,' wore a creation by Alexander McQueen.

Termed as 'Revealed – Secrets of Kareena Kapoor Khan and 20 glamouristas' by Hello for the September 2014 issue, we can't wait to know Kareena's secrets.

Looking extremely classy, Kareena dons the smoky look and spilling seductiveness with those intense expressions.

Donning a classy McQueen black gown with gold shoulder embellishments, Kareena looks nothing but sassy.

 Kareena is the one beauty in Bollywood who is known for her edgy fashion sense and uber stylish persona.

Whether it is about going risqué or making an ethereal appearance in a complete out-of-the-league wardrobe, Kareena matches her quirky sense of style with almost everything.

Kareena looks bold, tempting, enchanting and intriguingly charming on Hello this time.

It is not the first time Kareena is seen wearing a black Alexander Mcqueen dress. Before this the actress wore the gown with little variation for an advertisement.

Deepika Padukone and Kate Hudson are some other divas who were spotted wearing similar attires.

The gown, which Kareena wore for Hello magazine was first seen on Hollywood hottie Charlize Theron at a Ferragamo event.

Deepika Padukone wore the black Alexander McQueen gown at the Screen Awards 2014 red carpet. The black gown featured a metallic collar piece embellishment, which was the highlight of the creation.

The keyhole shaped detailed neckline cut looked classy with this plain black gown. The high neck collar-piece of the Alexander McQueen gown had sequin golden embellishments.

For the advertisement, Kareena wore the standard Alexander McQueen black gown. Kareena gave a twist to the attire and tried to look different from Deepika Padukone.

 This black gown on Kareena features a golden neckline which is the only highlight of the dress.

Apart from the gown hugging Kareena's perfect figure, the golden rim like embroidery makes the Alexander McQueen black gown look perfect.

Apart from these Indian beauties, Kate Hudson was also seen wearing similar dress at 2013 Golden Globe awards. The gown's keyhole neckline looked fabulous and gave a clear glimpse of the cleavage.

 The gown had the same collar-piece golden embellishment. However, Kate Hudson wore the gown with a gold-leaf embellished obi belt.

Kate accessorised the look with a gold Roger Vivier 'Boite de Nuit' clutch.