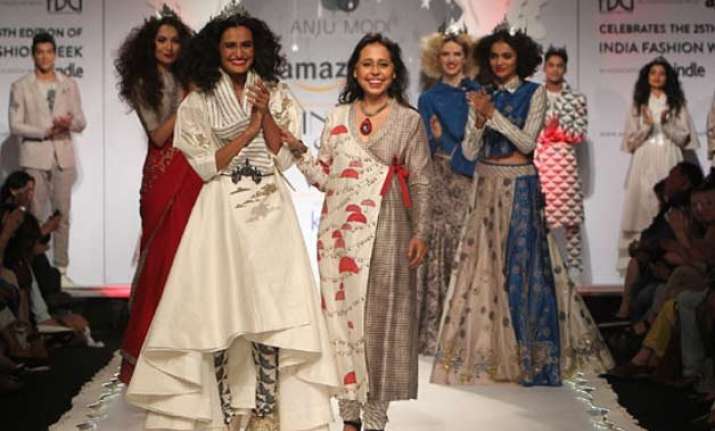 New Delhi: A prince, princess, magnificent castles, swans and a ship emerging out of turbulent waves - the words may seem to pop out of a fairytale, but these are some of the elements that designer Anju Modi used to showcase her collection 'How to write a fairy tale' at the Amazon India Fashion Week (AIFW) here.
She created an enchanting world on the ramp.
"The theme is a fairytale land, which is full of hope. We wake up everyday with a hope... so the aim was to capture that emotion and celebrate life," Modi told IANS at a press briefing post her show here on Wednesday.
As the show started, the audience was transported to an different world with background music of flowing water and chiming of bells, which acted as a time machine.
With a splash of red, blue and other pastel shades, the collection consists of gowns, saris, dresses, drapes, capes and long flowing suits. In menswear, suits and jackets rule the line.
Another pattern of significance in Modi's collection was black and white stripes.
Modi used motifs from the fantasy land like swans, castle and umbrella to add to the vibe of her collection. She also gave sari a 'fairytale twist' with a cape with red flowers on it. A cape with wings and castle embroidered on it also made an appearance at her show.
Talking about motifs, she said: "We have used so many elements like enchanted castles, owls, pirate ships, umbrellas, waves and dolphins. We read about these elements in stories books, and the collection is about going back to the books."
The designer also noted that she has used colours to give a feel of the fairyland, which was full of "beautiful colours and reminds us of all the beautiful stories".
But what caught the attention was innovative and quirky accessories -- be it shoes with wings, castle-shaped belts or tiaras with wings.
"The shoes with wings are also designed by me. With the belts and a tiara with wings, which narrates the feelings of a princess who knows a Prince Charming is waiting at the castle - 'she gets wings'. So the whole idea is to sell fashion," she said.
Modi has used "handloom, wool and hand printed prints" for the collection.
Every fabric draped, every line sketched, every muse revered paid an ode to a fairytale.
On the whole, the collection sketched a pretty story of mingling of fabric with soft colours in a lucid and subtle way.
Being held at Pragati Maidan, the first day of the fashion week, that is celebrating its 25th anniversary, was opened by ace designer Rajesh Pratap Singh with aplomb.