1) Hinglaj Mata Temple, Balochistan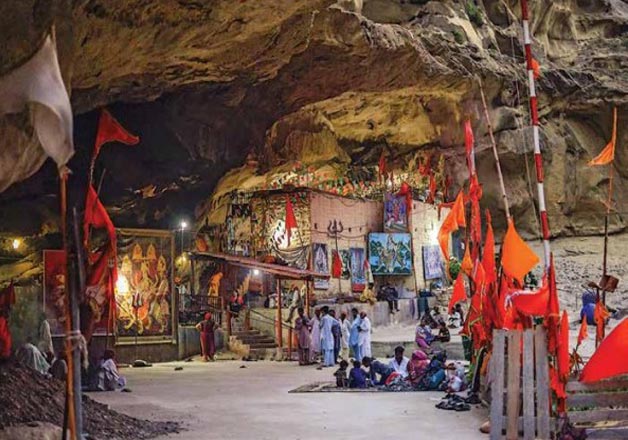 Hinglaj Mata Temple is one famous 'shakti peetha' of Goddess Sati. The cave temple is situated on the Hingol River in Balochistan and is also known as 'Hinglaj Devi', 'Hingula Devi' and 'Nani Mandir'.
 The temple has a legend attached to it. It is said that Shiva–Sati's marriage was not acceptable to her father Prajapati Daksh. So once, when he organized a great 'yajna', he did not invite Shiva and Sati.
Furious Sati went to the 'yajna' ceremony but was insulted there by Prajapati Daksha, along with her husband Lord Shiva. Unable to withstand this, she jumped into the 'yajna' fire and committed suicide. Though she died after this but her corpse did not burn.
The inconsolable Shiva wandered with Sati's corpse throughout the world till he met Lord Vishnu who dismembered Sati's body into 52 distinct parts. All these parts fell at different places and formed 52 varied 'Shakti Peethas' of the world. It is said, on dismemberment of the body, Sati's head fell at this 'Shakti Peeth' which is known as Hinglaj Temple and hence it became a renowned reverential place of Hindus.
The temple is held in high esteem by Hindus and Muslims alike; where Hindus revere it as a 'Shakti Peeth' or 'Devi Mandir', Muslims call it 'Nani' or 'Bibi Nani' ka mandir.  Every year in April, a four day pilgrimage is organized to the Hinglaj Mandir and several devotees of all religions and faith throng its premises. The deity is also worshipped and visited by many Hindus in India.