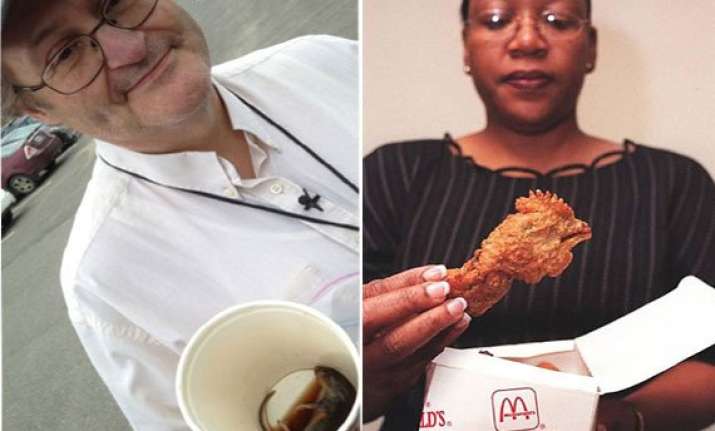 Food and hygiene is something that is expected to go hand in hand, as nobody would want to see a mouse, lizards, or cockroaches popping out of their favorite food items and greeting with a "Hello"!
Yuck... you wouldn't even want to imagine let alone talking about it. (The way you will probably react after reading it)
Well! Irrespective of what we want and what not, we often become the victim of awful circumstances a disgusting stuff happens to be an ingredient of our meal.
Here are some instances of disgusting things reported to be found in food, just to beware you of your next visit to favourite outlet for some snacks.
1. Dead Mouse in McDonald's Coffee Cup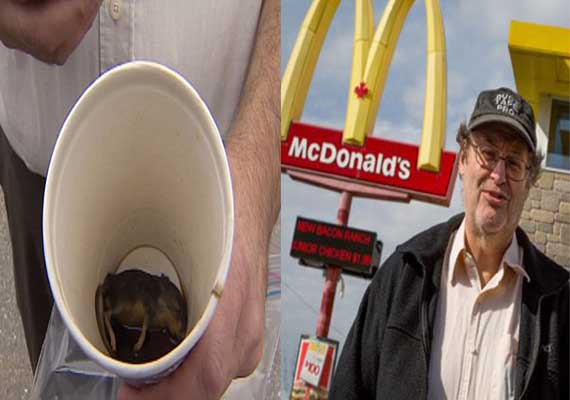 A Canadian man named Ron Morais got a pathetic surprise when he found a dead mouse in a coffee cup, which he ordered from a local McDonald's restaurant.
"I always take the lid off to get my last sip of coffee. And when I took the lid off, there was a little bit of a surprise in my coffee cup. It was a dead mouse," said Morais.
Advice: Next time check your drinks/coffee before taking the first sip and not last. :P
2. Worms in Cadbury Chocolate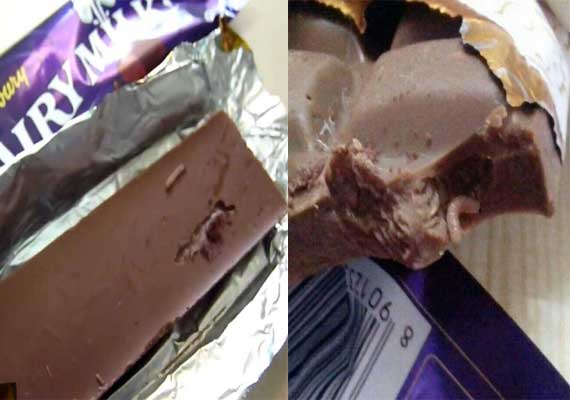 In 2003, Cadbury found itself in the eye of a storm, when several cases of worms in its 'Dairy Milk' chocolate were reported in Maharashtra. Extensive media coverage and criticism from every nook and corner had almost set the stage for company's downfall.
The company launched a PR campaign and ad campaign featuring Amitabh Bachhan and a revamped poly-flow packaging to deliver a sense of confidence among its consumers, and it worked commendably.
Advice: Big B and PR can save your business! :p
3. 7-inch knife in Subway Sandwich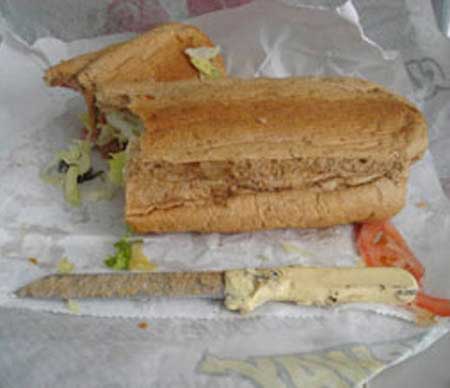 A 27 year old N.Y. man named John Agnesini made a frightening discovery one day, when he got a special ingredient 'knife' baked right inside his in former favorite Subway bun.  
Luckily, the man didn't bite into the knife's blade and wasn't cut, but he sued the local Subway outlet for such carelessness.
Advice: Never appoint a chef who has Aamir Khan's 'Ghajini' symptoms.  
4. Worms found in Kellogs Chocos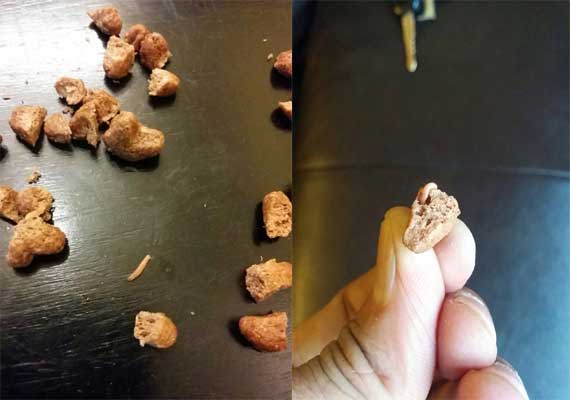 Bangalore women Archana Sanjay opened a new packet of Kellogs Chocos, poured in into milk bowl for her 3-year-old son Aarav. She was just about to look away but a squeal from the little boy captured her attention.
The horrific sight of a worm crawling inside the chocolate shell, which Aarav was about to devour welcomed her.
Advice: 'Let's Make Today Great' and not buy Kellogs :P
5.  Lizard in a salad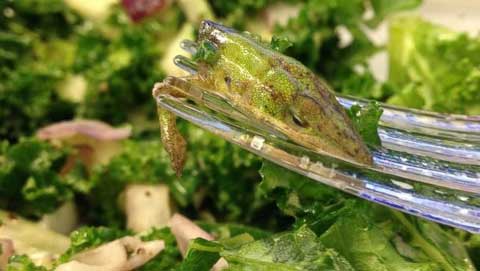 Robin Sandusky, from NYC was shocked to discover a lizard in her salad from a local cafe.
"I turned it over and the gore was hanging out the back of the neck. Lizard had an arm and half-open eyelids". "I said, 'Oh man. I have a lizard in my salad".
Advice: Going green is not always a good idea.
6. Chicken Head found in Mac'Donalds Happy Meal'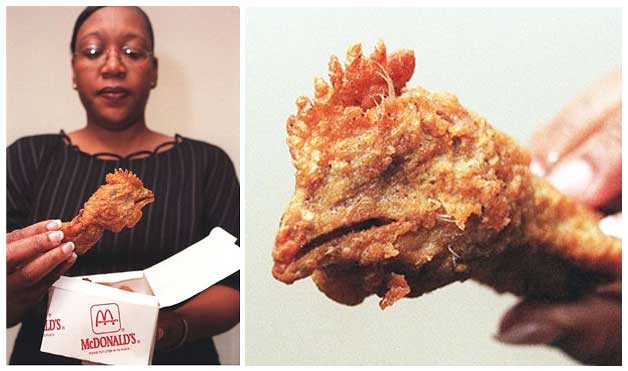 A mother went to a MacDonald's outlet along with her sons and bought Happy Meal packet. When her 6 year old son didn't show much interest in eating the chicken, the woman thought of eating it.
She opened the packet and was going to eat the chicken when her 8 year-old kid yelled and drew her attention towards the piece which was looking just like 'chicken's head'.
The furious mother forced charges and asked for 100,000 dollars as compensation.
Advice: Certainly! I am not loving it.