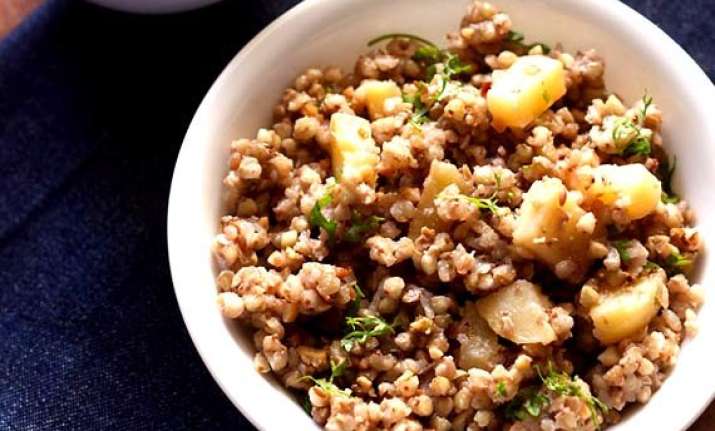 New Delhi: In north and western India, many people keep fast during Navratri. Since Navratri celebrations are on, fasting for long can give you tummy troubles and can make you feel weak.
While you are fasting, you might be spending more time thinking about what to eat than giving up on certain foods. If you are running out of ideas for the occasion on what to eat while fasting, then worry not!
Since it is nine days along fast one should eat something which is healthy, nutritious and provides you energy at the same time.
Here we present you a special recipe that needs less preparation and you can have it without much tension of calories.
Ingredients:
1 cup buckwheat (kutto or kutti no daro)
1/2 cup curds (dahi)
1 tbsp oil
1 tsp cumin seeds (jeera)
1/2 cup raw potato cubes
1 tbsp ginger-green chilli paste
rock salt or table to taste
2 tbsp roasted and coarsely powdered peanuts
1/2 tsp lemon juice
For the garnish
1 tbsp finely chopped coriander (dhania) optional
1 tsp roasted sesame seeds (til)
 Method:
 1.Clean, wash and soak the buckwheat in enough water for two hours. Drain and keep aside.
2.Combine 1½ cups of water and curds in a deep bowl and whisk well. Keep aside.
3.Heat the oil in a deep non-stick pan and add cumin seeds.
4. When the seeds crackle, add the potatoes, mix well and cover and cook on a medium flame for two to three minutes or till the potatoes are half cooked, while stirring occasionally.
5. Lower the flame, add the ginger-green chilli paste, buckwheat, curds-water mixture and rock salt, mix well and cover and cook on a slow flame for five to six minutes, while stirring occasionally.
6. Add the peanuts and lemon juice, mix well and cook on a medium flame for one minute.
7. Garnish with coriander and sesame seeds