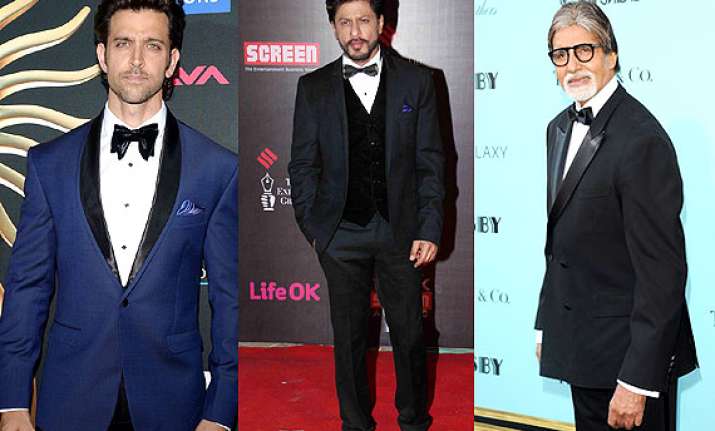 New Delhi: Bollywood is full of fashionable people, and celebrity 'dads' are no exception.
From velvet suits to leather jackets and bold prints, these fathers can pull off anything.
 These are certainly the coolest dads of Bollywood. Despite ups and downs, flops and hits, these popular celebs like Shah Rukh Khan, Aamir Khan, Hrithik Roshan among others, are doting dads who love spending time with their kids.
 Whether it's on-screen or off-screen they can pull anything with the prefect blend of style and sophistication.
In honour of Father's Day, we have compiled a list of the most stylish celebrity dads around today.
 Amitabh Bachchan is one of the most stylish celebrities of tinsel vile. Even in his 70s he can give a tough competition to all the young dads of Bollywood.
From his films to his real life appearances, all his looks have the perfect notch of fashion.
Whenever Amitabh or his son Abhishek or daughter Shweta Nanda comes together for a movie or red carpet, you can expect a high level of style.
 He is the proud father of Bollywood actress Sonaskhi Sinha. Like his daughter Shatrughan Sinha, too has a distinctive personality.
From his voice to his style, Shatrughan Sinha has made a remarkable space in the industry.
On various red carpets you can find Shatrughan accompanying his daughter with vogue.
 Sonam Kapoor has emerged as the most popular fashion icon of the industry today. Her father Anil Kapoor on the other hand has forever been in the news for his "fit and fine" image and the ways in which he has maintained himself.
Well, when you have fashion icon in home, perfect style comes automatically. Not just in India but Anil has marked his presence globally.