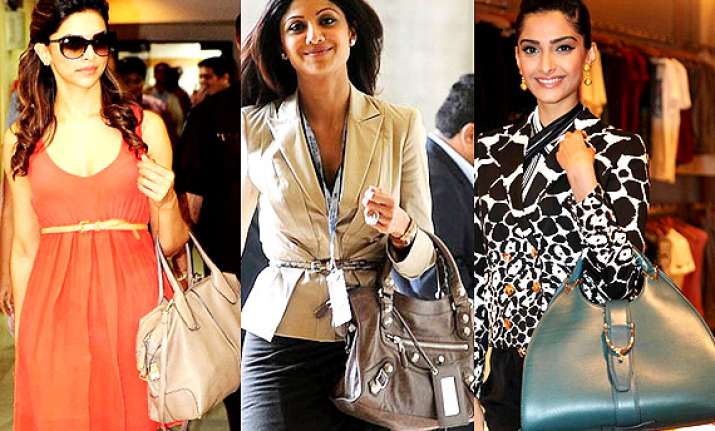 New Delhi: Deepika Padukone, Kareena Kapoor, Anushka Sharma, Kareena Kapoor and many other sizzling divas of Bollywood have fallen in love with their 'over sized bags'.
This season, you will not just see totes or bowling bags, but also sling bags and clutches, which are getting bigger and better.  From Louis Vuitton to Chanel, Gucci and Dior, the Bollywood celebrities flaunt their large collection of bags at various occasions.
All of us drool over luxury bags, you can carry your whole world into it, but these Bollywood babes can carry anything, a sling bag to a shimmery clutch and that too with panache.
Truly, for most of us, leaving the house without a handbag comes close to impossible.  Do you know that your bag reflects your personality, but let's not discuss it right now.
For now take a look at our Bollywood beauties, who show us how to carry off over-sized bags in style and get some inspiration for your wardrobe.
Shilpa Shetty
- You will find her incomplete without a big bulky bag. Shilpa Shetty as it contains half of your world! If you'd dig all the way to its bottom, you could surely set up a house with its components.
 At various occasion you can easily find her carrying a Dior or Chanel over-sized bag.
Deepika Padukone
- If a pure elegance of leather bags appeal to you then you can shake hand with Deepika Padukone. Deepika is often spotted carrying a classy leather piece.
Weather it's a sling bag or an over-sized bad, the leather is must for this leggy lass. Personally Hermes Birkin bags are Deerpika's favourite.