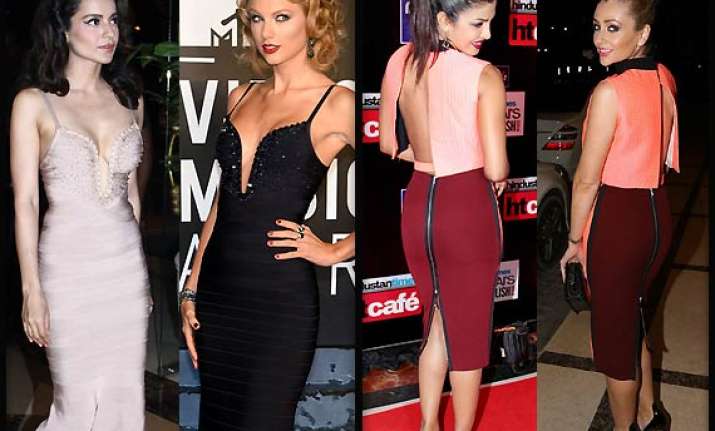 They seem to have been running out of wardrobe or else they wouldn't have copied each other's dressing style.
Many divas from Bollywood and Hollywood have been caught being passed on exactly same dress by designers, which have been previously showcased at many red carpet events.
While we mentioned you in our previous article about how Deepika copied almost every Hollywood actress by donning their already flaunted red carpet dresses this year at award shows.
We bring to you how
Kangana Ranaut
&
Priyanka Chopra
have been noticed donning exactly same dresses donned by actresses Taylor Swift & Gemma Merna respectively.
We recently caught Hollywood actress Gemma Merna donning exactly the same dress which Priyanka Chopra had worn to HT Most Stylish awards 2014.
While Kangana who showed off her well sculpted figure in Hervé Léger Priscilla beaded gown at Queen's success bash had been previously worn by actress Taylor swift way back in 2013 at MTV Music Video awards.
Check out their pics...

Kangana Ranaut arrived in donning this champagne coloured Hervé Léger Priscilla beaded gown with a plunging neckline at the success bash of her latest movie Queen.

Way back in 2013 at MTV Music Video awards, singer Taylor Swift wore a similar dark blue coloured Hervé Léger Priscilla beaded gown.
Not just only copying attires, celebs seem to have been copying poses as well. Gemma Merna is seen posing with one of her co-star in a similar manner like Priyanka Chopra who posed hugging Bollywood actress Sonakshi Sinha.
Priyanka Chopra arrived wearing bright coral crop top by Victoria Beckham teamed up with wine-pink dual coloured high-waisted pencil skirt and skycrapper black heels at HT Most Stylish Awards.

Gemma Merna too wore exactly same Victoria Beckham dress with same skycrapper black heels.