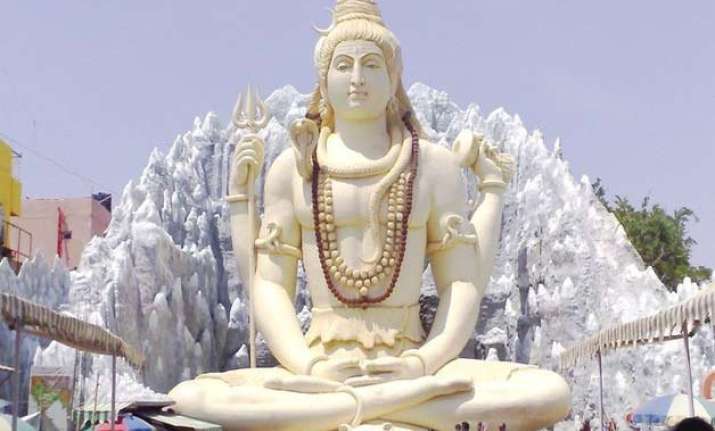 It's Lord Shiva's day today – a day to revere Him and seek His blessings for a bright and prosperous future and fulfilment of wishes.  
Devotees throng temples on this day and offer water, sweets, flowers etc to the 'Shivling' to please Lord Shiva. The ardent followers even keep fast to get their wishes fulfilled.  
The entire atmosphere seems to take a festive turn and we also feel peaceful.  
So, in order to celebrate this beautiful festival in the peak of the monsoon season, we bring to you some sweet dishes which you can savour with your family.  You can also use them for prayer purposes.
Here are the recipes –  
1) Saboodana Kheer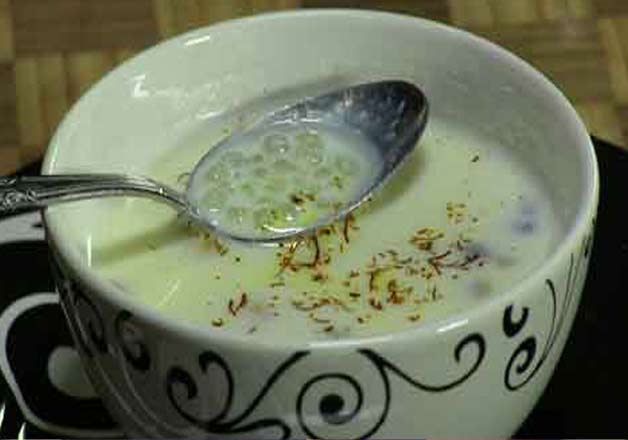 Ingredients –  
Milk – 4 cups
Sago granules (saboodana) – 1 tsp
Sugar – ¾ cup
Cardamom Powder – ¼ tsp
Water – 1 cup
Recipe –
1) Wash sago granules and keep aside for 10 minutes till the water gets drained.
2) Boil some water and add sago granules to it.
3) Bring it to boil while stirring constantly.
4) Reduce heat while still simmering it for 5-6 more minutes. Add some more water if required, however, not much.
5) Add milk and bring the mixture to boil again.
6) Simmer for some more time till the sago absorbs the milk and settles down.
7) Add sugar and cardamom while stirring occasionally.
8) Continue simmering till the granules are cooked. Ensure they don't turn mushy. You may check it by pressing between thumb and finger. It should flatten on pressing.
9) Serve hot, with nuts if desired.  
2) Sweet Yam (Shakarkandi/Chakravelli)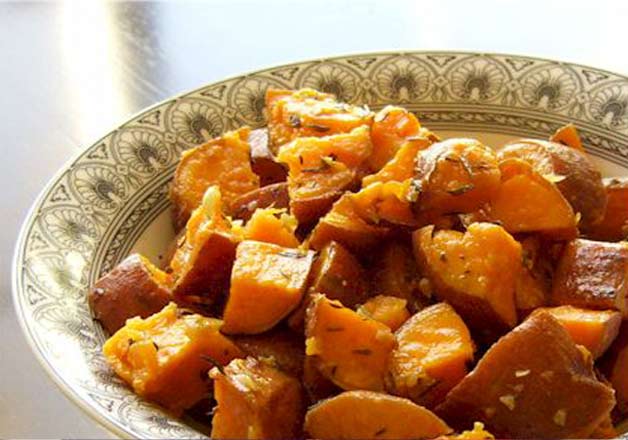 Ingredients –
Sweet Yam – 2
Jaggery – ¼ cup
Water – ½ cup
Elaichi/Cardamom Powder/seeds – 3-4
Ghee – 2 tsp
Recipe –  
1)  Wash the sweet yam and pressure cook for 1 whistle or till they become tender.
2)  Peel them and cut in cubes.
3)  Take water in a pan and put jaggery in it. Keep stirring it till the jaggery melts in the water.
4)  Now add the sweet yam to it and sprinkle the cardamom powder too.
5)  Pour ghee to it now.
6) Remove from fire and serve hot.
3)   Lauki Ka Halwa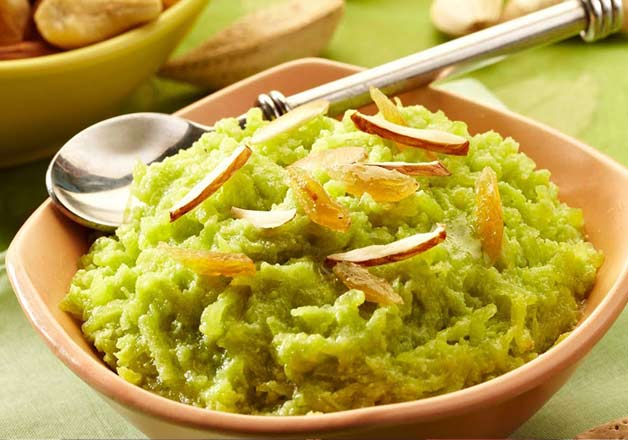 Ingredients –
Milk (fatty) – ½ litre
Lauki (pumpkin) – ½ peeled
Sugar – ¾ cup
Khoya - 100 gms
Elaichi (Cardamom) Powder – 1 tsp
Dry fruits (Almonds, raisins, cashews) – 1 tsp
Recipe –
1) Peel the 'lauki' and grate it with a grater.
2) Boil it in a pan with a very small quantity of water.
3) When it gets boiled, drain the water completely and keep the grated lauki aside for some time.
4) Now, take milk and boil it on medium flame for around 20 minutes.
5) Stir it and put the boiled lauki in it. Continue stirring for another 20 minutes till it becomes semisolid.
6) Grate khoya and mix in the pan.
7) Add sugar and mix it till it dissolves.
8) Add dry fruits and elaichi powder. Mix all of them.
9) The Lauki ka Halwa is ready to serve. You can either serve it hot or let it cool in a refrigerator and then serve it cold.