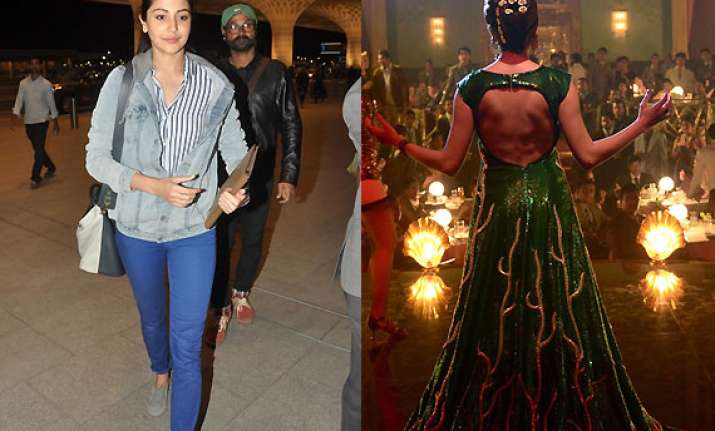 Anushka Sharma has been utmost conscious about her overall appearance in her upcoming movie 'Bombay Velvet' and the actress is making sure her personality isn't weighed down.
In the recently released image the actress is seen donning a heavily embroidered gown laced with appliqué flames as she stands up facing the audience.
For Anurag Kashyap's Bombay Velvet, the actor has gone up to the extent of burdening herself under this 35 kg weight gown exquisitely designed by Niharika Bhasin Khan.
In the movie Anushka is playin the role of a jazz singer from late 70's. For the scene she dons this stunning, shimmer gold and emerald creation that has been used for her opening song in the period drama.
The sequined gown is laced with heavy embellishments and a long train. The dress itself has a story to tell, according to Niharika, she had to work on the dress again after it was damaged by rains in Sri Lanka.
Designer Niharika explains the entire scene, "The scene sees her behind the mic in a club. It took her two-and-half hours to dress and two assistants had to carry the train for her. Thankfully she did not have to dance in it"
For this film alone the designer had carved out a total of 144 dresses for Anushka.