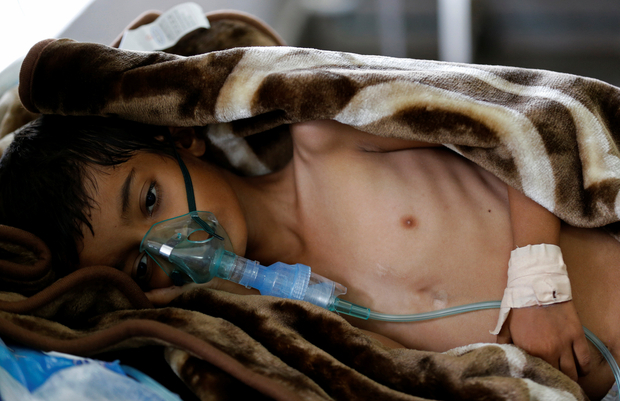 The cholera patients in Yemen is believed to get quadrupled in the next month to 300,000, the Regional Director of UNICEF said on Friday. He called the outbreak of disease in the war-torn country to be incredibly dire. Speaking on phone after visiting the affected country, the agency's Regional Director said that he has never seen an outbreak of that sort in the country. Yemen has already been dealing with the risk of famine and collapse of healthcare services because of the war. 
Half of the Cholera cases in Yemen belong to children, which is an alarming situation, Mr. Cappelaere said. The parents can do nothing because most of the hospitals and the clinics are either shut down due to unrest in country or lack supplies. 
Mr. Cappelaere was assigned UNICEF's Director for the Middle East and North Africa last year. He worked for the agency in Yemen from 2009 to 2012. It was his first trip to the country ever since then. Yemen is the poorest country in the Arab world. "We are responding to a major crisis without having the basics," he said. "The reality is incredibly dire."
Cholera is a bacterial disease which is spread by water contaminated by human waste. The symptoms include fatal dehydration and death, if untreated. The outbreak has been spreading its grip in the country at an alarming rate for the past month. The number of cases have risen from a few thousand to approximately 70,000 now. Major areas of the country are affected.
UNICEF is also known as United Nation's Children Emergency Fund. It has provided clean water to roughly one million people, rehydration kits and medicines to cope up with the outbreak. It has also pleaded the combatants to cease the conflict so that the health issue can be addressed. 
Mr. Cappelaere said Unicef was calculating that without significant intervention, "within a few weeks' time" the number of Yemen cases could reach 250,000 to 300,000."Cholera doesn't need a permit to cross a checkpoint or a border, nor does it differentiate between areas of political control," he said in a statement released by Unicef about his visit.
Yemen has been shaken for more than two years by a conflict between Houthi militants from the north of the country and a military alliance of Arab States led by Saudi Arabia. About 10,000 people have been killed and millions have been displaced.